Grab your Kleenex ladies and settle in because The Sometimes Sisters by Carolyn Brown will have you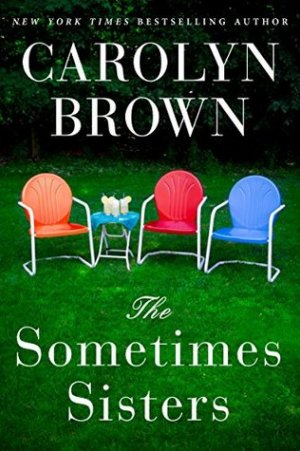 laughing and have your crying. It is the heart warming story of three sometimes sisters who find a way to become family with the help of a dead grandmother and an old friend. Settle in and let me tell you a little about this amazing story.
The Sometimes Sisters is a story about 3 sister who inherit a little lakeside resort after the death of their beloved grandmother. The sisters use to spend every summer there when they were growing up, but as they got older they drifted apart. Each sister has a secret that they are afraid to share with each other. It will take the help of their grandmother's oldest friend, Uncle Zed, and the love and understanding of each of them to open up and go from Sometimes Sisters, to life long friends.
What I loved about this story is that as they began to have each others backs, as they began to open up to each other, they were able to open their hearts and find love, friendship and a place of belonging that they were never able to find before. Uncle Zed was there for each of them, showing encouragement, love and support. Of course, there is sadness along with the happiness as the sisters learn to open up, but in the end, each sister finds her way, and each sister finds love.
This is an amazing feel good story that will make you wish you were a part of this amazing family.
Book Info:

Publication: Expected publication: February 27th 2018 | Montlake Romance |
A bittersweet inheritance reunites three estranged sisters in a novel of family, trust, and forgiveness from New York Times bestselling author Carolyn Brown.
When they were growing up, Dana, Harper, and Tawny thought of themselves as "sometimes sisters." They connected only during the summer month they'd all spend at their grandmother's rustic lakeside resort in north Texas. But secrets started building, and ten years have passed since they've all been together—in fact, they've rarely spoken, and it broke their grandmother's heart.
Now she's gone, leaving Annie's Place to her granddaughters—twelve cabins, a small house, a café, a convenience store, and a lot of family memories. It's where Dana, Harper, and Tawny once shared so many good times. They've returned, sharing only hidden regrets, a guarded mistrust, and haunting guilt. But now, in this healing summer place, the secrets that once drove them apart could bring them back together—especially when they discover that their grandmother may have been hiding something, too…
To overcome the past and find future happiness, these "sometimes sisters" have one more chance to realize they are always family.