In Tempted by her Hot-Shot Doc by Becky Wicks, writing Ryan Tobias's biography isn't going to be easy,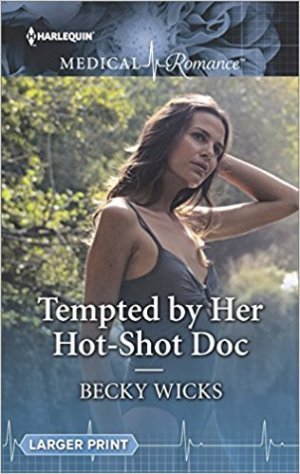 especially when he doesn't like to talk about his personal life, but Madeline 'Maddy' Savoia is one determined woman. She has three weeks in the Amazon to win him over, and even though she's suffered a breakup and Ryan's only focus is work, the chemistry between them is impossible to resist. Will Madeline and Ryan be able to help each other heal from the hurts of their pasts, or will they walk away from their chance at happy ever after?
"I've been thinking about it, Maddy. You and me. The future."
"You have?"
"Of course I have. In case you hadn't noticed, I think you're kind of OK."
She smiled playfully. "I think you're kind of OK, too – in a weird, moody way. But that's not what we need to talk about right now and you know it."
This was a really interesting and captivating read, as it's set in the Amazon where danger lurks and medical resources are nowhere near what doctors are used to, and the hero and heroine face some tough obstacles to be together. As for the way this story started, it drew me into the story immediately, as the hero isn't looking forward to having his biography written because it means opening up to Madeline about his past and what happened to someone he cared about, which something he doesn't like to talk about.
Both the main characters entertained me from start to finish due to the wonderful combination of intense moments because of their back stories as well as playful banter between the pair as they find a way to work together; and their journey to happy ever after including what happens with the hero and heroine when it comes to the dangers of the jungle, Ryan opening up to Maddy about what happened to make him so focused on work and the heroine needed to talk about what she went through that turned her from being a nurse to a writer. Moreover, I really liked both the hero and heroine. Maddy is resilient, courageous and I liked how determined she was to write Ryan's story and that she wasn't afraid to push him to open up to her about the tough things that have happened in his life. I also liked the decisions she made when it came to her career and that the hero pushed her to face her demons. Being a nurse meant everything to her. Will she return to the job she once loved?
"But you can't sleep out here anyway, can you? What about snakes?"
"Snakes like the ground."
"Snakes like trees, too. You going to wrestle one for bed space, are you, Indiana Jones?"
He grinned. "I'll be careful."
While the hero, he's worked hard to get to where he is in life and I could understand why he's so determined to help those in areas that don't get the best medical care because of his past and his guilt over losing someone he cared about. I also liked how determined he was to win the heroine over, because they have exceptional chemistry that should not be ignored. Not when he's never had the sort of feelings he has for Maddy for anyone else. Yet, what I liked most of all about the hero is that he opened up to the heroine about the things that were hard for him to talk about.
Overall, Ms. Wicks has delivered an engaging and wonderful read in this book where the chemistry between this couple was strong and instant from the moment they meet; the romance was delightful and had me hoping these two would be able to help each other heal from their pasts; and the ending had me worried for one of the main characters, but had me liking how things worked out for this couple, as the dangers of the jungle make them realize how much they care for the other and that they shouldn't let the other get away. However, it was the moment that Ryan wins back Maddy that was the best and had me smiling because he does something very endearing for Maddy and a little girl that needs some cheering up because of what she's going through. However, it was the epilogue that wrapped this story up nicely, as readers finally discover whether Ryan's biography ever got finished. I would recommend Tempted by her Hot-Shot Doc by Becky Wicks, if you enjoy the opposites attract trope, medical romances, or books by authors Amalie Berlin, Tina Beckett, Annie O'Neill and Amy Ruttan.
Book Info:

Publication: March 1st, 2018 | Harlequin Medical |
Three weeks with a gorgeous TV doc…
How long can she resist?
Madeline Savoia is thrilled to be writing sexy, infamous Ryan Tobias's biography—and to accompany him to the Amazon to film his TV show! She won't be tempted. She's just suffered a breakup and Ryan's only interest is saving lives—perfect! Only, their passion sizzles before they reach the rain forest! But is three weeks up-close-and-personal enough to become forever?