The Spaniard's Stolen Bride by Maisey Yates is the second story in the Brides of Innocence duology and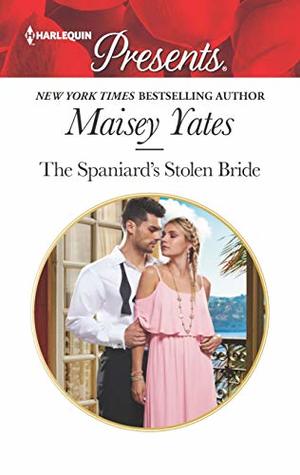 takes place concurrent with The Spaniard's Untouched Bride. Despite overlapping storylines they are easily read as standalone romances and can be read in any order.
Diego Navarro knows he's the black sheep of the family. He believes he takes after his father, a cruel man who murdered Diego's mother. His brother Matias is the good son, and Diego wishes he could be more like him but has resigned himself to his fate. When Matias and Diego's grandfather indicates to the brothers that the first to marry will get the family inheritance, they are both set on a quest for the perfect bride. Diego's problem is that the woman he wants, Liliana Hart, is betrothed to his brother.
That doesn't stop Diego though. He kidnaps Liliana and brings her to his private island where they are married. Though he blackmails Liliana into the marriage by threatening to reveal damaging information about her father, he also offers her a chance at a free life once he gets his hands on the family fortune and they can divorce.
Liliana is in a predicament. She'd been attracted to Diego from their first meeting but when promised to his brother she'd resigned herself to a boring, loveless marriage. When Diego kidnaps her, she discovers her sense of self, making a bargain with him to gain financial independence and freedom after the marriage is over. But Diego isn't the bad man he thinks he is. And when Liliana finds herself falling in love with her new husband, will she be able to convince him to give their marriage a real chance?
I thoroughly enjoyed this romance as well as its counterpart! Liliana is initially a shy woman, but marrying Diego, even under duress is more exciting to her than staying with Matias. Their attraction to each other leads to several sexy love scenes. Their intimacy makes way for open and honest communication, sharing parts of their lives that have affected them deeply. Liliana's mother died during her birth, so she's always felt guilty about that, and her father has used that to get her to do his will. Diego's mother died by his father's hand and left him believing that love doesn't exist. How he feels about Liliana is confusing to him. And when she confesses her love to him he's afraid that he'll never be able to return those feelings. They go through some rocky patches until forced to face the truth – that they belong together. They get their happy ending and a sweet epilogue rounds out the story nicely. It's a sexy and entertaining romance and I recommend both books in this Spanish set series.
Book Info:

Publication: Jan 15, 2019 | Harlequin Presents | Brides of Innocence #2
Stolen for the Spaniard's inheritance… Will her innocence be his undoing?
To notoriously ruthless Diego Navarro, kidnapping and marrying his brother's shy fiancee seems a perfectly sensible way to secure his inheritance. Yet when Liliana Hart willingly goes with him, Diego's reluctantly intrigued. Though the heat of their marriage bed is scorching, it's the intensity of their connection that pushes Diego to the edge. But is it powerful enough to redeem this dark-hearted billionaire?