The Spaniard's Wedding Revenge by Jackie Ashenden is a sensual Cinderella themed romance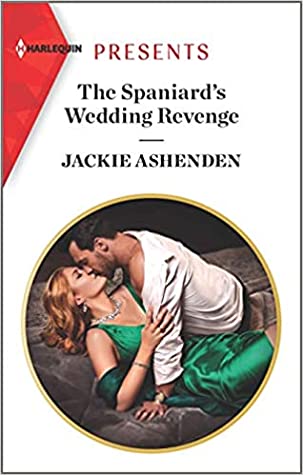 with a down on her luck heroine and the man whose plans for revenge end in passion and a happy ever after.
Cristiano Velazquez thinks there is something familiar about the woman in the street gang caught spray painting his limo. And realizing she has nowhere to go, he brings her home and offers her a job working with his housekeeper. Though she is reluctant to give him her name, he learns her first name and realizes she is Leonie de Reiro, the daughter of Cristiano's enemy. Her father had been his mentor after Cristiano"s parents died, but used his position to seduce Cristiano's wife and steal his son. Knowing that her father believes she's dead, Cristiano has a plan to enact sweet revenge, with Leonie as his bride.
Leonie has lived on the streets since being abandoned, first by her father when she and her mother were kicked out of her ancestral home, then by her mother who left her soon after. She views Cristiano's initial job offer with suspicion but when he treats her well, not making any sexual advances, she begins to trust him. Once the trust is there, the attraction between them comes naturally. When Cristiano reveals his knowledge of her true identity and offers her a marriage of convenience as a way to get revenge on her father, she agrees. But is there a chance for a real happy ending?
I loved this story! I appreciated that even though Cristiano has a playboy reputation, he is very careful to keep his distance from Leonie and develop trust between them before anything sexual occurs. Once Leonie is comfortable with him and shows that she is attracted to him, things take a more passionate turn with plenty of sexual tension and steamy encounters.
Both characters have endured hurtful pasts, with Cristiano grieving the loss of his son to another man and Leonie feeling the pain of abandonment. Sharing these feelings with each other cements their already growing bond. Cristiano's ideal revenge doesn't quite go as planned, but he gains a much better prize – Leonie's love. The epilogue is quite lovely too. I can always count on Jackie Ashenden to deliver a sizzling, emotional romance!
Book Info:

Publication: Apr 21, 2020 | Harlequin Presents |
From destitute…
…to wearing the Spaniard's diamond!
There's something familiar about the penniless yet fiery woman Cristiano Velazquez saves from the Paris streets. Yes, the redheaded wildcat makes his blood run red-hot. But it's not until he gives her a job cleaning his mansion that it hits him. She's his nemesis's long-lost daughter!
Securing Leonie's hand in marriage would allow him to take the one thing his enemy cares about—just as he once took everything that mattered from Cristiano. His first step? Convincing his newest—most defiant—employee to meet him at the altar!