The Spirit of Christmas by Liz Talley is a touching and beautiful story about the true meaning of Christmas.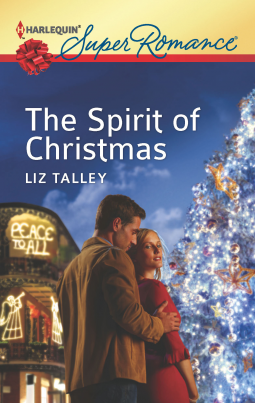 Brennan Henry doesn't have time for the holidays or his grandfather giving away money to strangers just because he thinks that he has found the true meaning of Christmas. So when he meets the woman his grandfather has given two million dollars just to because she is the true spirit of Christmas and wants her to become their new image, he decides that he will try anything to make her go away. That is until he can't believe that she won't fall for his charm as easily as other women and sees her as a challenge.
Mary Paige Gentry has always tried to do the right thing, even when that just inconveniences her in some way. So when she helps an old man she believes homeless be a little warmer during a freezing night, she can't seem to be able to believe or wrap her mind over winning two million dollars from him just to become his company's image for the true spirit of Christmas.
Marie Paige has always struggled to be where she is and she doesn't want to take the easy way for things. Now she doesn't know what to do with two million dollars and Brennan who his grandfather has assigned as her escort for all the events she must attend. She doesn't believe that the chemistry they share will take them anywhere. She thinks she is nobody while he is a rich heir. While she helps him get over his hate of the holidays she starts falling for him, but it will take more than passion and true love for trust and belief to open their eyes to what can truly happen between them.
If you want a holiday book that will touch you with very emotional scenes about the pain of a little boy who turns into a modern day scrooge and the woman who heals him with the true meaning of love and giving during the holidays, then this story is for you.
Rating:
Book Info: Publisher: Harlequin Super Romance (November 27, 2012)
Brennan Henry doesn't have time for holly and jolly. He's been too busy boosting the bottom line for the family business. That is, until his eccentric grandfather hands over alot of money to a stranger on the street. Some nonsense about her being the true spirit of Christmas. Yeah, right. All Brennan can see is he's now got a situation on his hands with one Mary Paige Gentry.
Then he meets Mary Paige. And no matter how deep he searches, it seems she's the real deal. Kind, compassionate and just enough sass to keep him very intrigued. The spark of attraction between them could land him on the naughty list! But his is still a dollars-and-cents world…unless she can prove there's more to the season—more to life—than money.