The Spirit of Second Chances by Synithia Williams finds single mother Cierra Greene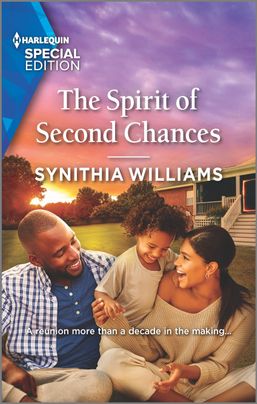 determined to make her real estate business a success after divorcing her husband. She really needs a big sale, and her parents direct her to a property that the owner wants to sell. The only problem is that no one has purchased the property yet because it's haunted.
Cierra reluctantly turns to Wesley Livingston for help. Wesley has the ability to feel the presence and emotions of spirits. He's also co-host of a television paranormal investigation series with his two brothers. He's also the man that broke her heart in high school, resulting in her getting together with her ex, who happened to be a friend of Wesley's at the time.
Wesley can't believe Cierra is turning to him to help. He never understood why she broke up with him right before prom, but he's not about to lose a second chance with her. As the pair teams up to get to the bottom of the haunting, they realize their feelings never died, and maybe the ghosts aren't the only ones who will be able to find peace.
It was fun watching Wesley and Cierra get to know each other as adults and learn to put the past behind them so they can have a future together. I also enjoyed the concept of the story; I thought it was interesting and enjoyed watching the pair conduct their own paranormal investigations as they attempted to discover the history of the haunted house. When the truth comes out it is heartbreaking, but I thought everyone handled it well and did the right thing for the spirits.
My only real issue was with how Wesley dealt with his brothers when it came to the house they grew up in. In a moment of frustration and anger, instead of talking to his brothers, he makes a decision that could have potentially torn them apart. I appreciated how Cierra tries to bridge the gap between the brothers, even though they had suspicions about her motives in helping Wesley.
This is the second book in the Heart & Soul series. I have not read the first book, and while I did feel like I was missing a little background on the brother's getting their show and Dion, the oldest brother, leaving town, it wasn't enough to take away from my overall enjoyment of the story.
The Spirits of Second Chances is a story of about family, heartbreak, healing, and second chances. With an interesting storyline and well-written characters, this is a book fans of second chances and the paranormal will enjoy.
Book Info:

Publication: August 23, 2022 | Harlequin Special Edition | Heart & Soul #2
Single mom Cierra Greene is determined to achieve success in real estate to support herself and her young daughter. Too bad her most lucrative property for sale is…haunted? Reluctantly, she seeks out her one-time crush, Wesley Livingston, for help. Now the cohost of a popular paranormal-investigation show, he is as appealing as ever. Cierra and Wesley try to ignore their unfinished business, but when old feelings resurface, things get complicated…