In The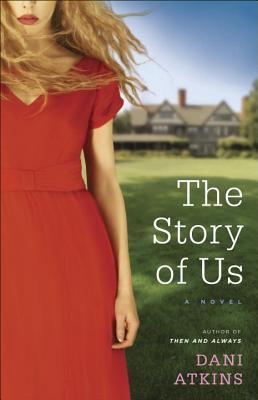 Story of Us by Dani Atkins, One moment Emma Marshall is out for the night with her best friends celebrating her impending marriage to her fiance Richard, and the next moment a tragic car accident changes her life forever. The aftermath, and the truths that are also revealed, impact not only Emma, but the lives of her friends and even her family in profound ways.
'But sometimes the unthinkable, however horrible it is, just happens to be true. All the clues had been there all along; I had just refused to see them.'
However horrific that night was, it brought Jack into Emma's life. Unsure if it is hero worship for the man who rescued her or if there truly is a connection between them, she faces a difficult decision between Richard and Jack. One man Emma has known since childhood and has always had an easy relationship with, until recently. The other man is a relative unknown, but one with whom she has an extraordinary bond and intense chemistry. Emma knows the choice she makes will change her future indelibly.
"I'm not what you need in your life right now, Emma. But God help me it's taking every last ounce of strength I have not to drag you back into my arms and obliterate the memory of every other man whose lips have been on yours."
The Story of Us was a raw, compelling look into the life of one woman, as her world was shattered after a tragic accident. Forcing Emma to look at everything differently, those changes also meant she had to reevaluate her plans for the future with her fiance, Richard.
This was definitely the type of women's fiction that I have to be in the right frame of mind to read. There were a lot of heavy subjects, and a fair amount of heartbreaking moments. That's not to say there were no happy times. Emma still had cause for smiling in her interactions with family, friends, and of course her newfound confidant Jack. I thought the way her emotions flowed from one scene to the next, from anguish to complacency, anger to acceptance, seemed realistic given all of the big changes in her life. Those feelings were conveyed clearly in Ms. Atkins' descriptive wording and in the overall tone of each scene.
The way this story was set up, with flashbacks from Emma in the present day getting ready for a big event, then back to the night and months that followed after everything changed, was very interesting and kept me guessing until the end. As the story of the car accident began to unfold, I could guess some of the alterations that would take place, but not who Emma would end up with.
Yes, this was a bit of a love triangle, with Emma torn between her fiance Richard and her rescuer Jack. For me it wasn't a frustrating, make-up-your-mind-already element to the storyline. There was a natural progression as to how everything evolved, which I appreciated. And I honestly did like both men. Okay, so Richard a little less for a while, but I won't give away any spoilers. Emma, to me, was a lovely, selfless woman who was struggling with her mother and father's health issues all while dealing the best she could with a tragedy in her own personal life. I personally thought she did a mighty fine job, all things considered.
I think fans of deeply emotional women's fiction will be intrigued and swept along with Emma on her journey to find acceptance, peace, and lasting love in her life.
Book Info:

 Expected publication: June 2nd 2015 | by Ballantine Books |
A gripping love story from the bestselling author of Fractured.
Emma Marshall can't wait to marry her childhood sweetheart, Richard. But then a tragic accident changes everything, and introduces a stranger, Jack, into her life. Gorgeous and mysterious, Jack is like no-one Emma has met before. But Richard is the man she loves…
Two different men.
Two different destinies.
How will Emma end her story?
– See more at: http://headofzeus.com/books/The+Story… (less)