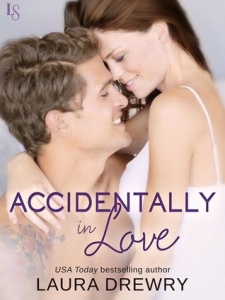 Accidentally in Love by Laura Drewry: Ellie doesn't like cops. Brett's a cop. Brett also gives Ellie a lot of speeding tickets. Enough so that Ellie's license is suspended and she has to take a driving course where Brett's the only teacher nearby.
"Brett blinked down at her, clearly unamused. 'License. And. Registration. Please.'
Shit.
The last time he'd spoken to her in that tone, she'd wound up in the back of his police cruiser for almost half an hour while he took his sweet time running her license through the system."
Only when they're finally forced together through circumstance do Brett and Ellie actually talk and realize the other isn't so bad after all. Surprisingly, they get along pretty well. Especially once Brett becomes involved in a stalker case concerning Ellie and they get a lot closer. With Brett as her fake boyfriend, she learns maybe she can trust some cops. Maybe Ellie can even fall in love with one.
Accidentally in Love is a very sweet and funny read. If you're looking for steamy and sexy, this isn't it, but I would still recommend at least trying Accidentally in Love given the adorableness level and hint of danger with the stalker.
And personally, I'm a big fan of relationships starting out in hate. That way, the couple gets some good sparring on. The dialogue between Brett and Ellie was great whether it was serious, joking, or heated. Drewry made a very believable connection between the two, despite the lack of bedroom time.
Although I would love a bit more heat, I understood why Drewry didn't put it in given Brett and Ellie's situation. It just would have been a bit cheap otherwise.
Book Info:

June 16, 2015 | Loveswept | Friends First #3
Ellie Palmer and cops don't mix, and getting pulled over by Officer Brett Hale—again—doesn't help. Neither does being forced to take a safe-driving course with him. Brett's by-the-book attitude leaves Ellie ice-cold, and his rock-hard body won't change that. Still, the more time she spends with the guy, the more she finds herself warming up to his unexpected charms.
Even though Brett comes off like a boy scout, Ellie has sparked something he wants badly enough to get him to rethink his past mistakes. But when her ex shows up, Brett makes it his mission to keep Ellie safe in the here and now. His gut tells him the guy's trouble, and Ellie must agree, because she doesn't complain when Brett pulls her close. To keep her safe, though, he'll have to choose between breaking her heart . . . and breaking the rules.