In The Sugarhouse Blues (The Hudson Sisters #2) by Mariah Stewart, Des Hudson and her older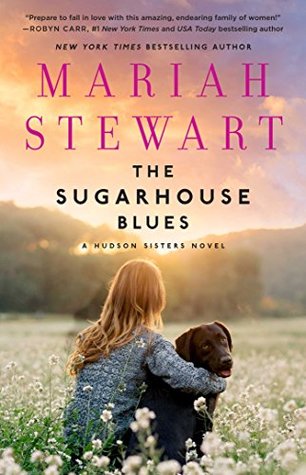 sister Allie have given up their normal daily lives–such as they were–to fulfill their father Fritz's final wishes: to meet their half-sister Cara, whom they'd never even heard of before, and to restore the family theater in Hidden Falls, Pennsylvania. Those weren't the only surprises the three women faced when they moved to town a short while ago. They also realized they had an aunt their father kept hidden from them, along with an epic family history filled with scandals, lies and romance.
"I'm not a nice person, Des."
"Sometimes that's true, but not always." Des moved closer to Allie and put her arms around her. "You're my sister, and I love you. I always will, Al."
On top of the dramatics of Des, Allie, Cara and their Aunt Bonnie (aka Barney) coexisting in the grand family home, they each have to play a role in the theater's remodel, per their father's will. And while Des might have a stable head on her shoulders, being in charge of the financial side of the project puts her a bit out of her comfort zone. What also throws her for a loop is her attraction to the town's mayor, Seth. He has every outward appearance of being a bad boy, with his tattoos and motorcycle. But could he be the soft-spoken, caring guy everyone assures Des he truly is? And might it be enough of a reason, along with wanting time with her newfound family, for her to stick around after the project comes to a close?
'She smiled at his back, knowing he understood her in a way every other guy she'd ever known had missed.'
Some books just give you the warm & fuzzies–kind of like coming home–and that's exactly how it felt reading The Sugarhouse Blues. With Mariah Stewart's carefully woven storytelling and compelling characters, this was a novel to savor.
'As crazy as she'd thought the idea at the time, coming to Hidden Falls was the best thing that had ever happened to her.'
There was a lot to like about The Sugarhouse Blues, whether you've read book one (The Last Chance Matinee) or not. It had that small town appeal I adore, where everyone knows each other, and when they're not gossiping they are helping each other out. (lol) But it was the family drama, both past and present, that has been the most intriguing part of this series so far for me. We learned even more about Fritz, the three sisters' father, as well as other family members this time around which helped to paint a better picture of the family as a whole.
While all of the sisters had their time in the spotlight, this was predominantly Des's story. I was a bit surprised by some of her background. It was sad and rather heartbreaking how she was treated by people close to her when she was young but I liked that it didn't make her bitter like her sister Allie became. Des was compassionate, kind, forthright in her own way, and still trying to find her place in life in some respects. Of course where she was an animal lover and had a rescue back in Montana, that only endeared her more to me. And Des learned some valuable lessons about people here. She already knew how to tell if she could trust an animal and how to gain their trust, but she learned not to judge a book by its cover and to get to know someone before deciding if they would make a good fit in her life.
A bit of romance, lots of drama, a sense of community and history. (And just check out that beautiful cover which suits the book perfectly!) The Sugarhouse Blues was a heartfelt story that will be sure to bring out a wide range of emotions for readers.

Book Info:

Publication: Published May 15th 2018 | Gallery Books | The Hudson Sisters #2
Allie, Des, and Cara, each having her own reasons for wanting a share of their father's estate, meet in the grand Victorian home in which he grew up, only to be greeted by another secret he purposely hid from them: his sister Bonnie. The women reluctantly band together to take on Fritz's challenge, working with a local contractor to begin the renovations financed by an account Fritz had set up for the task. While the restoration appears to go smoothly at first, it soon becomes apparent that the work will be more extensive than originally thought, and Des, elected to handle the money, needs to find ways to stretch out the remaining savings while searching for new sources of funding.
As strangers linked only by their DNA try to become a family, the Hudson sisters also try to come to terms with the father they only thought they knew. In the process, each woman discovers her own capacity for understanding, forgiveness, love, and the true meaning of family.