In Tiger Striped (Shifters Unbound #11.5) by Jennifer Ashley, Shifter Tiger is accustomed to hearing a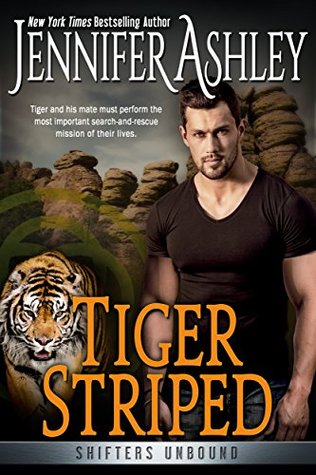 call for help from some unknown source in his mind and having to set out on a rescue mission at a moment's notice. It's partly what he was designed to do. But the voice that wakes him up from a deep sleep is urgent–and he can sense the emotion behind the pleas for help, which is highly unusual. Not sure if it's a Shifter he knows that is in trouble or if it's the intensity of their emotions drawing him, Tiger leaves his mate and young son safely tucked in their bedroom and heads out into the night to start his search.
'He could feel the fear of the person he searched for, could sense their despair that no one would come. But usually it was distant, at the back of his mind, like a homing beacon to their location.
This person's distress gouged him, keeping Tiger from feeling anything but the need to race to them.'
But Tiger's hard-headed yet well-meaning mate Carly won't let him go on the potentially dangerous mission alone. Knowing he won't be able to talk her out of it, he gives in, just needing desperately to get to the Shifter reaching for his help. With their young neighbor Connor Morrissey also tagging along at the last second, Tiger has some much needed backup. Even though he knows there may be hell to pay when the other Shifters learn of Connor's road trip. But with unknown sources tailing them, and the scene when they do find the Shifter in need more disturbing than they thought, Tiger is glad to have them all there to pull together and finish the rescue mission with their pooled resources.
"I love you."
…Carly smiled. "I love you too, big guy. You know that."
Knowing and hearing her say it were two different things. Tiger loved how the words sounded as they came out of her mouth.
A fast-paced novella that changed everything for enigmatic Shifter Tiger and those around him, Tiger Striped was yet another heartfelt, thrilling installment in Jennifer Ashley's Shifters Unbound series.
'Tiger's most basic instinct was not to kill. He'd been made to help, not hurt.
But sometimes…'
This will be rather brief as there's not a lot I can say about what unfolded in Tiger Striped without giving too much away. The main characters we followed were Tiger, his mate Carly, and their neighbor Connor Morrissey, who unexpectedly ended up going along with them. I loved getting a closer look at Tiger again. He's such an intense guy, so fierce, complicated and with a tragic, sad past. So I think to really get the full effect of what happened in this novella, it would benefit readers to have at least read his book, Tiger Magic, first. That will set this short story up and will give the much needed background to get why Tiger went off on this tracking mission the way he did.
Jennifer Ashley once again wrote with wonderful attention to detail–everything from the background to the character's emotions to the subtle nuances in their relationships. There were several characters who made appearances here and there, but this was a rather intimate novella as it was mainly about Tiger, Carly and Connor. I loved watching them interact, how Tiger's love for Carly was so clear and strong. And how Connor and Carly had a fun rapport between them with a lot of respect evident as well.
You will not believe the secret that was revealed in Tiger Striped! Fans of the series will be thrilled and I'm sure, just like me, looking forward to how Jennifer Ashley uses this as a stepping stone to the next full-length book.

Book Info:

Publication: Published May 22nd 2018 | by JA / AG Publishing | Shifters Unbound #11.5
Tiger …
The call I must answer …
I wake in the night, knowing something is wrong. Carly, mate of my heart, is next to me, and I hear my son's breathing. They are safe.
But someone, someone cries out with a despair I can't ignore …
Carly won't let me go alone, and neither will Connor, the cub who will become one of the greatest Shifters of us all—I know this. I see.
I can't ignore the call. We take Dylan's truck and head into the night, on what proves to be the most important mission of my life …
A novella in the Shifters Unbound series.