In The Summer Getaway by Susan Mallery, You would think that after being divorced for four years Robyn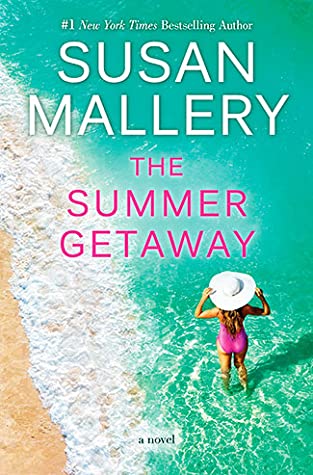 Caldwell would have a plan put together for her future. Not so much. She's been coasting along on her divorce money and a (very) part-time job. But while she's been watching out for her two children, who are now eighteen and twenty-two, life has seemingly moved on without her. Robyn is feeling the stress, trying to keep her oldest, Harlow, from imploding over wedding planning issues, as well as wondering if her youngest, Austin, will find his own path for a successful life. So when it all comes to a head, Robyn makes her way to the one place where she can clear her mind: her great aunt Lillian's palatial home in California.
Harlow's eyes filled with tears. "I was horrible yesterday. You should hate me."
"You'll have to live with my love."
"I don't deserve it."
"The love comes for free, no matter what you do. I may not always approve, but I'll always love you."
Being near her loving great aunt turns out to be just what Robyn needs. As is being an entire country away from her issues. But somehow as she begins to feel more like herself again, Robyn's family and friends make the trek from Florida to Santa Barbara one at a time, leaving her to wonder why they all flock to her with their problems. Aside from her beloved great aunt, the person Robyn finds herself turning to most to ground herself is Mason Bishop. A distant relative of Lillian's husband, he's set to inherit the house once Lillian passes. After almost twenty-five years in the Army, Mason is as strong and steady as a guy can get. At least in Robyn's eyes. But for him, he's rattled to the core by his gut reaction to her beauty and the feelings for her he can't push aside. Something neither of them ever expected.
'Robyn was the kind of woman that came around once, if a man was very lucky. Walking away wasn't an option.'
A feel good, multi-generational novel with snappy dialogue and loads of emotion, Susan Mallery's latest, The Summer Getaway, is sure to be the perfect heartfelt beach read.
'Heading to California was a lot like running away–even if it was just for a few weeks. But maybe that wasn't such a bad thing. Lillian had always been there for her.'
Trigger Warning: View Spoiler »Cheating (side characters). « Hide Spoiler
Susan Mallery always tells a wonderful story. And The Summer Getaway had a lot going for it, with three interesting POVs (Robyn, Harlow, and Mason) plus being set in two fun locations: Florida and California. There were a lot of threads to this story. But Susan Mallery was able to keep each character's role clear in everything that took place, while also adding something important to the overall arc. Not easily done. Although it's something I think Mallery excels at.
Without getting too in depth, it basically boiled down to *all* of the characters we met–secondary and main–having some type of personal change or crisis to overcome. ALL of them. From Robyn realizing she had no plan for her future, personal or financial, to Harlow not being sure about her upcoming marriage or her job at the family business, as well as Mason finding out he was inheriting a ginormous house; to Robyn's aging great aunt Lillian coming to terms with nearing the end of her life; Robyn's son Austin finding his way, fresh out of high school. The ancillary cast were also woven into the storyline and had a huge impact on the lives of others. But It worked. And even though there was a lighthearted almost comical sway to how everyone ended up in the same location over the summer, it felt genuine how it all came together.
The personal relationships Mallery explored were actually quite fascinating, especially seeing it from the perspective of different generations. I particularly liked Mason and Robyn's budding romance. It started off rocky. But they had instant chemistry and it definitely led to some seriously sexy moments. *fans face* Watching Robyn navigate being a mom to her now grown children was my other favorite part–aside from any scene with Lillian. Loved. Her. So much. While Robyn worried about her son not yet having a plan for college or a career, it was Harlow that likely caused the most grey hairs. (lol) But even spoiled Harlow learned some valuable lessons and thankfully grew up by the end.
QOTD: Do you have a family member, close friend, or place you can escape to when you need to get away?
Book Info:

Publication: Published March 15th 2022 | HQN Books |
One woman discovers the beauty in chaos in this poignant and heartwarming story about the threads that hold family together from #1 New York Times bestselling author Susan Mallery.
With her divorce settlement about to run out and a mortgage she can't afford, Robyn Caldwell needs a plan for her future. She nurtured her family and neglected herself. But how's she supposed to think when her daughter has become the most demanding bride ever, her son won't even consider college, her best friend is on the brink of marital disaster and her ex is making a monumentally bad decision that could bring everything crashing down on Robyn's head? So when her great-aunt Lillian invites her to Santa Barbara for the summer, Robyn hops on the first plane.
But it's hard to run away when you're the heart of the family. One by one, everyone she left behind follows her across the country. Somehow, their baggage doesn't feel as heavy in the sun-drenched, mishmash mansion. The more time Robyn spends with free-spirited Lillian, the more she sees the appeal in taking chances—on dreams, on love, on family. Life is meant to be lived on purpose. All she has to do is muster the courage to take a chance on herself.