The Summer He Came Home by Juliana Stone: Cain Black was Crystal Lake's favorite son. Football hero and a member of the Bad Boys Club. 10 Years ago Cain took off for the bright lights of Hollywood and Rock and Roll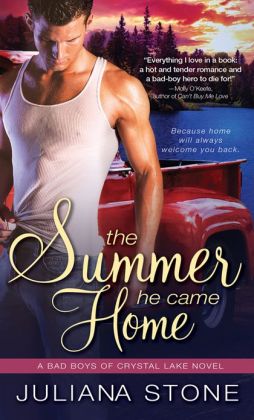 and he never looked back. Well now he is home. Back for the funeral of one of his best friends. Not much has changed in his little home town, most of the faces are still the same, but one stands out among the crowd, the breathtaking single mom that he desperatly wants to get to know better.
Maggie O'Rourke is a single mom who cleans housed to put food on the table, but also hides a dark secret that no one in town knows about. Maggie is happy with the quiet, safe life that she is carving out for herself and her 7 year old son Michael, but when she lays eyes on the strong, handsome, Cain Black, she's not sure she wants to play it safe any more.
Sparks fly between Cain and Maggie, but when the past comes back to haunt them both, will Maggie run, or will she find the strenght to stand and fight for the happiness and safety she has only felt in the arms of Cain?
I fell in love with Cain and Maggie. Cain may be a Rock and Roll super star, but he does not fit the sterotype of the party hard, sex, drugs and Rock n Roll type or persona. Cain is very real. He has feelings, and cares for his friends, his mother, and his home town. He shows a vulernablity and strength of character that makes you love him as the hero of the story. His past is not squeeky clean, but that just makes him more real. I loved Maggie most of all. Her inner strength in the face of the fear and hurt of her past made me want her to get together with Cain. They just clicked as a couple. Yes, their moved quick for only knowing each other a short time, but Cain took the time to share as much of himself with Maggie before hand and really wanted her to trust him, and trust in them.
One of my favorite lines in the book was when Cain is trying to explain to Maggie how he feels about her and Michael:
"It's so damn easy to say you love someone, because they're just words. I love you. Three little words. But it's the feelings behind those words that's hard. It's the feelings that make them matter."
Michael and Cain's friends Mac, Jake and Dex, added light heartedness to a story that could have been very heavy. I really enjoyed this story and look forward to more stories of the Bad Boys of Crystal Lake.
Book Info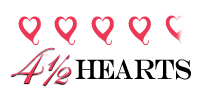 Release date: April 2, 2013 | Series: Bad Boys of Crystal Lake
Sometimes the best place to find love is right back where you started…
Falling asleep in a different bed every night has made it easy for Cain Black to forget his past. It's been ten years since he packed his guitar and left Crystal Lake to chase his dreams. Now tragedy has forced him home again. And though Cain relishes the freedom of the road, one stolen moment with Maggie O'Rourke makes him wonder if he's missing out on something bigger than fame.
For Maggie–single mother and newly settled in Crystal Lake–love is a luxury she just can't afford. Sure, she appreciates the tall, dark and handsome looks of prodigal son Cain Black. But how long can she expect the notorious hellion to stay?
The last thing either of them wants is something complicated. But sometimes love has its own plans.