In The Summer of Sunshine and Margot by Susan Mallery, Margot Baxter has a unique job that suits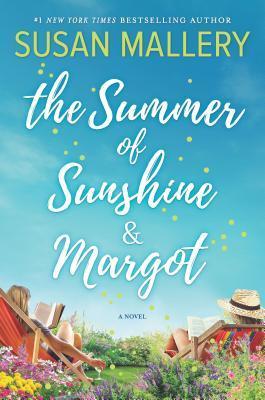 her uber organized tendencies well. Teaching her clients the finer points of etiquette and how to act in any given situation is rewarding and at times challenging. Margot has a feeling working with former movie star Bianca Wray will be quite its own adventure. Especially when she sees the mansion, a former monastery, where she'll be staying with the actress. Talk about a fascinating home! But it's Bianca's scholar son Alec who intrigues Margot the most. Which is unusual. With her family's–and her own–bad luck in love, she generally stays out of romantic entanglements. Being around Alec, though, may prove to be too much for even her own legendary control.
"We are cursed," she said with a sigh. "We are the Baxter sisters and we just can't seem to escape our destiny."
Margot wanted to say that wasn't true, but they came from a long line of women who had disastrous relationships and the emotional staying power of snow in July.
Sunshine Baxter, Margot's fraternal twin sister, is turning over a new leaf in her life. She's spent far too much time chasing after what she thought was her dream guy, only to be left in the dust with nothing but a broken heart to show for it. So Sunshine is determined to make her career as a live-in nanny work this time. And she's going to take college classes to finally earn a degree. Even if she *is* the oldest student in her classes. But it doesn't take long for Sunshine to become overwhelmed with her class work, which hopefully some tutoring will help. It's her blossoming relationship with single dad Declan, whose son Connor she nannies, that really gives her pause. She's trying to do the right thing. And sleeping with her boss is out of the question. Unless maybe it could be more than just a fling. Could Sunshine find her forever with Declan and Connor?
'No, she told herself. No, no and no. Not Declan. She loved her job, loved the dynamic the three of them had. Getting involved with him would ruin everything. She wasn't that girl anymore–she refused to be.'
A novel of sisterhood, supposed family curses, career challenges, and love, The Summer of Sunshine and Margot was sincere women's fiction that will shoot straight to a reader's heart.
Sunshine looked at Declan. "She's always been bossy. Sometimes you just have to go with it."
"I can't help it," Margot told her. "I'm the firstborn. Responsibility is my middle name."
"You're firstborn by eight minutes."
Margot sighed. "I did love being an only child."
I've been following Susan Mallery's work for a long time and I've truly enjoyed her foray into women's fiction over the past couple of years. This was a great addition to that line up. From the easy flow of the story itself to the multidimensional characters, reading this book was a breeze. It certainly helped that Mallery's trademark charming (and sometimes quirky) heroes, smart and savvy heroines, and lively banter dominated here. It really felt like Margot and Sunshine's backgrounds as well as their present situations were thoroughly explored, which meant we got to know them quite well and got a true sense of their personalities.
The bond between fraternal twins Sunshine and Margot was realistic and oh so much fun. They didn't really have any big issues between them, per se. It was mainly their individual personal lives that were the struggle, leaving them searching for an end to the supposed Baxter curse in regard to romance. Sunshine was aptly named, being a rather free-spirited knockout who flitted from one bad relationship to another. I had to give her credit for buckling down and not only sticking it through as a nanny–although her charge, Connor, was a cutie pie and a rather easy kid to take care of–but Sunshine was also working toward a college degree. Her complicated relationship with her boss Declan, Connor's dad, might bug some readers from what I've seen in reviews so far. But I think Mallery did well with Declan's background, paving the way for a romance to bloom genuinely between them and not seem too overly taboo.
Margot was kind of polar opposite of her sister in personality. She was very organized, detail-oriented, stuck to her routines, and didn't have much of a social life. But she also shared the family curse of not having any luck in the romance department. Until she met her client Bianca's son, Alec. If you like your heroes with a geek chic vibe, Alec will be your guy. I liked how surprisingly passionate he and Margot were as a couple—who were totally just having fun together. Or so they thought. It was clear to everyone that they had something special and I adored the grand gesture at the end of the book. Alec once again shocked me in a good way while he swept Margot off her feet.
Is there anything better than a new Susan Mallery book to lose yourself in? The Summer of Sunshine and Margot proved to be as fun and heartfelt as I hoped it would be and I think it will charm fans with its honesty while exploring our heroines' lives.
Book Info:

Publication: Published June 11th 2019 | HQN Books |
The Baxter sisters come from a long line of women with disastrous luck in love. But this summer, Sunshine and Margot will turn disasters into destiny…
As an etiquette coach, Margot teaches her clients to fit in. But she's never faced a client like Bianca, an aging movie star who gained fame—and notoriety—through a campaign of shock and awe. Schooling Bianca on the fine art of behaving like a proper diplomat's wife requires intensive lessons, forcing Margot to move into the monastery turned mansion owned by the actress's intensely private son. Like his incredible home, Alec's stony exterior hides secret depths Margot would love to explore. But will he trust her enough to let her in?
Sunshine has always been the good-time sister, abandoning jobs to chase after guys who used her, then threw her away. No more. She refuses to be "that girl" again. This time, she'll finish college, dedicate herself to her job as a nanny, and she 100 percent will not screw up her life again by falling for the wrong guy. Especially not the tempting single dad who also happens to be her boss.
Master storyteller Susan Mallery weaves threads of family drama, humor, romance and a wish-you-were-there setting into one of the most satisfying books of the year!