In The Summer Place by Jennifer Weiner, After emerging from a year of lockdown, cooped up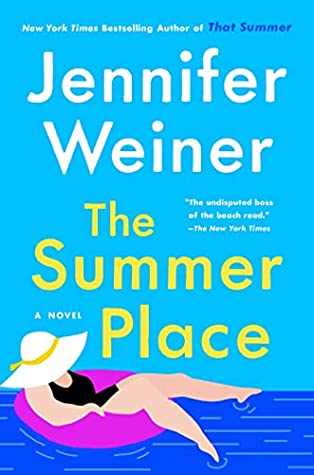 in their house together in NYC, the Danhausers–Eli, Sarah, Ruby, Dexter and Miles–are ready for life to get back to normal. Like everyone else is, they're sure. But one curve ball after another gets thrown their way, starting with Ruby and her boyfriend Gabe announcing their engagement. Fresh out of college and only twenty-two years old, Sarah and Eli worry Ruby isn't ready for marriage. But that might be their own problems clouding their views on her impending nuptials. Because the pandemic seemed to drive home the fact that Eli has basically checked out of his marriage. And Sarah unfortunately can only assume the worst considering their lack of communication these days.
'You think you know someone, then you're locked in a house together for over a year, and it turns out, you never knew him at all.'
Ruby and Sarah throw themselves into the wedding plans despite their worries. Being held at Sarah's family's Cape Cod beach home was a surprising but lovely idea–one that will allow her and the rest of her brood to finally visit with her aging mother Ronnie. But no one was expecting the way Eli, Sarah, and Ronnie's pasts would make reappearances to them all over the summer. Or how many life-changing decisions they would be forced to make. Through the heartbreak, tears, admissions, and even a bit of laughter, the family and those tied to them, past and present, will all learn just how much they are capable of handling before it is all said and done.
'Whatever obstacles they'd encountered, whatever kept them from being happy–and, by extension, from being here, with her–she would fix it. She'd clear the path; she'd smooth the way. She'd figure out how, and she'd fix it all.'
A modern day family saga filled with snippets of the past, an abundance of lies and shocking revelations, The Summer Place was a compelling story as only Jennifer Weiner could write it.
"Marriages can survive a little drama. Marriages can survive a lot of things."
Trigger warning: View Spoiler »Cheating (main characters and secondary), death of a main character. « Hide Spoiler
As much as I loved the characters Jennifer Weiner created–this was told from eight POVs!–and the family bonds they made over the years throughout their rich history, I had mixed feelings about this book. Overall I enjoyed it. We watched as the Danhausers and the Levy-Weinbergs made it through the pandemic only to face down a slew of personal and family issues. I think readers will surely be able to empathize with how Sarah, in particular, struggled to hold it all together while under lockdown with her entire family, and how the daily minutiae kind of sent her over the edge.
What kept me from feeling fully engaged with the story at times was what seemed to me as many of the characters being selfish. It relates to the trigger warning listed above. Something that, depending on how it's handled, I can usually tolerate. But Weiner took things to the Nth degree with it as well as the lying, severe lack of communication, and carelessness on Sarah, Ronnie, Eli, Annette, and even Maria's part, making it all seem soap opera-ish. It wasn't that Weiner brought up touchy subjects or how she didn't shy away from issues happening in the world today. I just couldn't get past the decisions made by several people.
That being said, my favorite part of the book was actually the setting. I love that Weiner sets her summer stories in Cape Cod, being a New Englander myself. It's cozy. It's familiar. And she details it in a way that makes you feel like you're right there. Even the Levy-Weinbergs' beautiful summer house was basically a character in the story which added charm and a touch of poignant whimsy to this tale.
QOTD: Jennifer Weiner's novels are on so many beach reading lists. Have you read any of her work? Or do you have other go-to authors for your summer TBR?
Book Info:

Publication: May 10th 2022 | Pub: Atria Books |
From the #1 New York Times bestselling author of That Summer comes another heartfelt and unputdownable novel of family, secrets, and the ties that bind.
When her twenty-two-year-old stepdaughter announces her engagement to her pandemic boyfriend, Sarah Danhauser is shocked. But the wheels are in motion. Headstrong Ruby has already set a date (just three months away!) and spoken to her beloved safta, Sarah's mother Veronica, about having the wedding at the family's beach house on Cape Cod. Sarah might be worried, but Veronica is thrilled to be bringing the family together one last time before putting the big house on the market.
But the road to a wedding day usually comes with a few bumps. Ruby has always known exactly what she wants, but as the wedding date approaches, she finds herself grappling with the wounds left by the mother who walked out when she was a baby. Veronica ends up facing unexpected news, thanks to her meddling sister, and must revisit the choices she made long ago, when she was a bestselling novelist with a different life. Sarah's twin brother, Sam, is recovering from a terrible loss, and confronting big questions about who he is—questions he hopes to resolve during his stay on the Cape. Sarah's husband, Eli, who's been inexplicably distant during the pandemic, confronts the consequences of a long ago lapse from his typical good-guy behavior. And Sarah, frustrated by her husband, concerned about her stepdaughter, and worn out by challenges of life during quarantine, faces the alluring reappearance of someone from her past and a life that could have been.
When the wedding day arrives, lovers are revealed as their true selves, misunderstandings take on a life of their own, and secrets come to light. There are confrontations and revelations that will touch each member of the extended family, ensuring that nothing will ever be the same.
From "the undisputed boss of the beach read" (The New York Times), The Summer Place is a testament to family in all its messy glory; a story about what we sacrifice and how we forgive. Enthralling, witty, big-hearted, and sharply observed, this is Jennifer Weiner's love letter to the Outer Cape and the power of home, the way our lives are enriched by the people we call family, and the endless ways love can surprise us.