Claiming His Baby at the Altar by Michelle Smart at the Alter was a story I didn't want to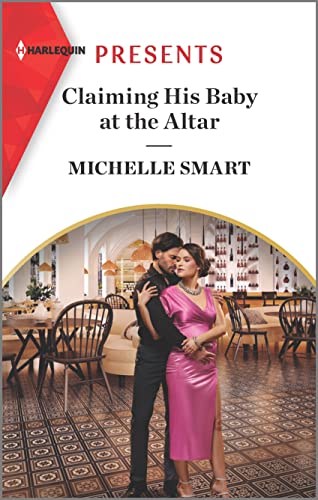 leave; put down or finish. I love the way Michelle Smart conjures up emotion and this story was packed with it.
Desperate to save her brother and beg Alejandro to not press charges, Flora ends up experiencing the most magical night of her life with him instead. Hurt when he shuns her and cuts her from his life, she has no opportunity to tell Alejandro he's going to be a father until her brother's trial starts.
Having loved her big brother's best friend for most of her life, Flora's blackmailed marriage makes life difficult. Alejandro shows his kind side and together over time as the walls start to come down; the question of whether they can have a lifetime of happiness together is shadowed by Alejandro's absolute resolve Flora's brother has nothing to do with their son.
Michelle Smart is so clever with her words. The love builds. The emotion and angst are swirling page after page. As the layers drop you can see both have feelings but when will they see it themselves? Just knowing, and waiting, as a reader, all of the unsaid words will be leading to a spectacular show down.
I loved that Alejandro was emotional. He played quite the part in the story and I loved his angle. Flora was stubborn and protected her heart differently and with each interaction and adventure I was waiting with trepidation for the finale.
Absolutely adored this story; a total shelf keeper.
Book Info:

Publication: May 2022 | Harlequin Presents |
A huge shock is in store for the billionaire in this secret baby romance by Michelle Smart.
His surprise son…
Her surprise wedding!
Notorious billionaire Alejandro Ramos shut Flora Hillier out of his life after their encounter nine months ago, believing she'd betrayed him. But when he learns about their child, he demands they marry—immediately. And within minutes of exchanging vows, Flora shockingly goes into labor!
Ramos proves to be an excellent father, but Flora is wary of the new vulnerable feelings their whirlwind marriage exposes. Because it's one thing to trust Ramos with her body and their baby. It's a whole different thing entirely to trust him with her heart…