The Summer Sisters by Sara Richardson: This is a story about family, forgiveness, and finding love at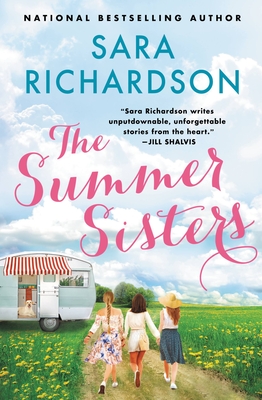 any age. This is the story of two  generations of sisters. Sassy and Lillian, and Dahlia, Magnolia and Rose and how they find HEA at the Juniper Inn.
Dahlia, Magnolia and Rose have inherited the Juniper Inn from their Aunt Sassy. Rose is working hard along with Dahlia to bring back the magic of the Inn in time to celebrate Aunt Sassy's birthday. But the best gift they could possibly give her is to get their mother Lillian to come home to the Inn and work at mending the rift between her and her sister Sassy.
As Rose works on the Inn, she start to fall more in love with Colt, the boy who is like a son to her aunt, the man that does not show a hint of feelings for Rose, other than as a friend. But when guests start arriving for their long awaited reunion at the Inn, and Rose is nominated to act as tour guide to the handsome grandson, she feels Colt pulling away and feels like she has lost him before she even has a chance to show him how she truly feels.
Dahlia is struggling with feeling for Ike, the town doctor who showed her on her trip last Christmas that she was still a desirable woman, even after her divorce. But Dahlia is keeping him at arms length because her children need her and her daughter is not ready for her to start dating anyone. When Dahlia meets Ike's new partner in practice, she is afraid that her inability to make time for Ike might force him to give up on her and move on.
When the town elects Sassy as mayor in order to convince the town historian to give up the land that is being disputed over, turn it into a community garden, or have the historical society take it over, she is not expecting to see the man as anything more than a stumbling block to get the garden, but as she spends time with him trimming roses, having lunches, talking, laughing and sharing sweet kisses, she begins to realized that there is more to this man than she first expected.
And Lillian….when she unexpectedly shows up in town and makes friends with Grumpy, the owner of the local coffee shop, she finds that he is more than his grumpy disposition, he really listens to what she has to say, he comforts her in her time of need and self doubts, and shows her that maybe she still has what it takes to turn a mans head, and capture his heart.
This book is about each of these amazing women finding the courage to forgive hurts from the past, get over insecurities and self doubt, having the strength to reach out for love and acceptance and finding that family, friends, and love is the best give that could be given and received.
I loved every moment spent in the company of these amazing women. Their roads to HEA are not smooth sailing, and there are some dramatic and scary moment too. Moments of uncertainty, moments of grief over the past, moments of truth when secrets are revealed, and moments of pure joy when they get their hearts desire. This is an amazing beach read. I highly recommend reading and sharing with all of your friends. 5 heart rating for sure.
Book Info:

Publication: July 6th 2021 | Forever | Juniper Springs #2
The Buchanan sisters share everything—including their inherited Juniper Inn. But when their mother won't let go of a decades-long feud with their Aunt Sassy to attend the inn's grand re-opening, the sisters decide a family reunion is long overdue.
Youngest sister Rose is determined to put together an extravagant celebration. Only she needs to convince a certain surly hardware store owner to help finish the inn's renovations.
After a heartbreaking end to her marriage, Dahlia and her kids are just starting to rebuild their lives. Dahlia's even considering opening herself up to love again, but will that upset the stability she's worked so hard to give her children?
Sassy McGrath has never stopped missing her sister, Lillian, and though they've both been too stubborn to reconcile, some shocking news might finally change everything. As family bonds are tested, will these two very different generations of women find the strength to believe in themselves and each other?