The Takeover Effect by Nisha Sharma is an exciting and sexy romance and the first in her Singh Family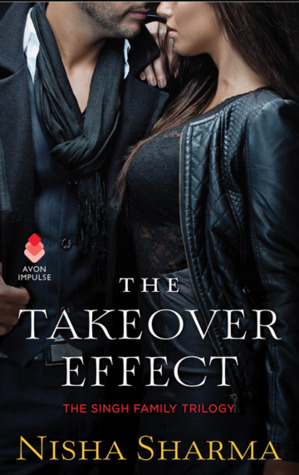 trilogy about three brothers determined to make their marks on the business world with strong and passionate women at their sides.
Hemdeep Singh has had a falling out with his father and left his family's business Bharat Inc. and its focus on software development to start his own law firm. But when his father has a heart attack after he hears about a takeover bid from a rival digital company, Hem joins with his brothers Ajay and Zail to do all he can to prevent the takeover from happening. The board of directors has hired lawyers to do their own due diligence about the proposition, bringing Mina Kohli into Hem's life.
Mina is determined to take back her deceased mother's law firm from the hands of her uncles. She's willing to do just about anything, even possibly agreeing to an arranged marriage her uncle Sanjeev has in the works for her as part of a business merger. When he offers her the chance to make partner by working with Bharat where he is on the board of directors, it's with the caveat that she will put in a good word for the takeover, no matter what she actually finds. Meeting the Singh brothers, and especially Hem has her determined to make sure that the decision she makes is the fair one, no matter what her uncle wants. Someone is out to sabotage Bharat, and Mina soon finds herself involved in a corporate espionage case and working side by side with Hem.
Hem's last relationship ended in disaster so he's wary of bringing another woman into his life, but Mina is not like any other woman he's met. She has the same Sikh religious beliefs and Punjabi background that he has, and she's smart, attractive and not afraid to speak her mind. Having a secret affair while working together is one thing, but will it lead to a happy ever after?
This is a great start to a new and exciting series! The Singh family is very wealthy, a consequence of their father's business acumen and software designs and they've expanded into multiple businesses but still view technology development as the most critical for their continued success. And ever since their business went public and opened up to shareholders, they've been losing money. Finding out why is something Mina starts looking into as part of her audit, uncovering leaks and the presence of a mole funneling information out of the company. I found this to be an exciting part of the story and quite enjoyed the technical side of Mina's search for answers, and the corporate world as a whole.
The traditional mixes with the modern in the Singh family, showing their ties to their Indian heritage and their lives in America. With both Mina and Hem having a Punjabi background and sharing the same faith, they understand how important family ties are. Mina's relationship with her father is strained since the death of her mother as a teenager, especially with how things have been going at her mother's former company where they both work. Hem's relationship with his parents is complicated by the way he left the family business and by the way they tried to push him and his ex-girlfriend into marriage when they weren't ready. He worries that they might scare Mina off if he brings her around too soon. Yet he's falling for her pretty quickly. There are some steamy love scenes and this is definitely an insta-lust turns to insta-love story. Hem is an alpha male, dominant personality with a possessive side, and there were a few times where he was a bit too pushy for me, but Mina isn't scared to tell him to back off and give her space.
There are several scenes involving delicious Indian food and the author makes liberal use of Punjabi phrases and endearments throughout. As well it showcases some of the Sikh religion as Hem follows some tenets of the faith though he's definitely been Westernized since he doesn't wear a turban and he drinks alcohol. Anytime a book inspires me to look up more about the subject matter (in this case Sikhism and Punjabi culture), I call it a success on the part of the author.
I enjoyed seeing the closeness Hem has with his brothers and there is lots of great banter between them, and between Hem and Mina. While the couple gets their happy ending, there is some intriguing news at the end of the story that will surely be a lead into the next Singh brother meeting his match. I'm looking forward to continuing the series!
Book Info:

Publication: Apr 02, 2018 | Avon Impulse | The Singh Brothers #1
Hemdeep Singh knows exactly what he wants. With his intelligence and determination, he has what it takes to build his own legacy away from Bharat, Inc. and the empire his father created. But when his brother calls him home, Hem puts his dreams on hold once again to help save the company he walked away from. That's when he encounters the devastating Mina Kohli in the Bharat boardroom, and he realizes he's in for more than he had bargained.
Mina will do whatever it takes to regain control of her mother's law firm, even if it means agreeing to an arranged marriage. Her newest case assignment is to assist Bharat in the midst of a potential takeover. It could be the key to finally achieving her goal while preventing her marriage to a man she doesn't love—as long as her explosive attraction to Hem doesn't get in the way.
As Mina and Hem work to save Bharat, they not only uncover secrets that could threaten the existence of the company, but they also learn that in a winner-takes-all game, love always comes out on top.