Stroke of Luck by B.J. Daniels is the first book in her new Sterling Montana series. Usually this author's books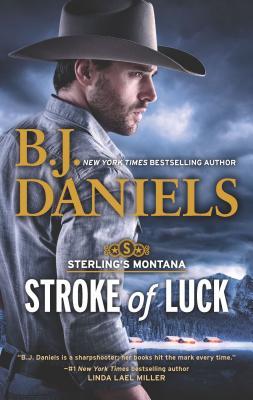 start with a bang but in this story there is a slow run-up to the action.
It's March in Montana. Usually the Sterling Ranch is not open for business this early in the year. The weather is just too iffy in Montana in March. Will Sterling is in charge of the family guest ranch following the death of his father. Will is reluctant to open this early in the season but an old friend of his father's has asked for accomodation there for a retreat for his employees. In honor of his father and the promised generous payment for their lodging Will agrees. There's one problem though on this day the guests are arriving. The ranch cook has broken his leg and is out of commission.
Having been told that his old friend Poppy Carmichael is back in the area and opened a catering business Will calls her and asks her to come to the ranch to cook for his guests for a few days. Poppy had a crush on Will back twenty years ago when she was twelve and he was fifteen. Poppy and her dad spent one summer in Montana. She fell in love with Sterling Ranch and puppy love with Will. He broke her heart back then and now Poppy has a chance at payback. Poppy agrees to the job proposal and thus begins a harrowing few days at the ranch. Was this payback idea worth risking her life?
Once the action begins it goes full force with explosions, murders and all sorts of mayhem. The mystery and suspense are ramped up and the author kept me turning pages to find out who is left standing and who did what to whom and why. This is a great mystery story as I always expect from B.J. Daniels. Definitely a great start to a new series.
Book Info:

Publication: February 19th 2019 | HQN | Sterling's Montana
He's hoping to bury the past. She's ready to settle the score.
The Sterling Ranch's season opening isn't going so smoothly. With the ranch's lodge full of guests and a Montana blizzard threatening, Will Sterling needs help—and he needs it fast. So when his childhood friend Poppy Carmichael agrees to lend a hand, he's grateful for a second chance…and more enticed by the woman she's become than he cares to admit.
For Poppy, it was supposed to be a retreat full of horse rides and hoedowns—with a side of showing Will what he's been missing all these years. But as the snow deepens outside, the guests' suspicion and mistrust turn sinister inside, catching Will and Poppy in the crosshairs.
Weathering the storm in each other's arms is all too easy for Will and Poppy, but will a confrontation with a killer mean their reunion is short-lived?
New York Times and USA TODAY bestselling author B.J. Daniels starts her Sterling's Ranch series off with a bang in this suspenseful story of romance and revenge.