The Texan Takes a Wife by Charlene Sands: One night, just to take the edge off, right? Help you restore the normal balance so to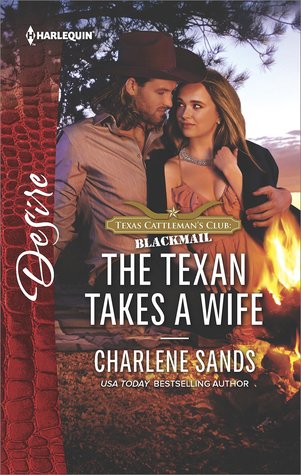 speak.
Erin Sinclair had almost convinced herself that would be the case. One night and she would forget about the insanity that had happened at home, forget that she had nothing to get back to and forget that she had been burned. She just wanted to forget and move on. Why was that so hard?
Daniel Hunt was a loner, he did love to take in strays and fix them though. Sometimes they just got him more than people, they were just easier to deal with and that was what he needed. However sometimes he needed someone, someone who knew it would only be a night, nothing more.
When one amazing night turns into more what happens when the past comes back to show it is the past and there is a future out there?
Ms. Sands has done a great job returning to Royal. She has picked up on the threads from some of the other novels to further these characters and help create their love story. Not sure how the title really fits in with the story, though honestly it doesn't matter. The story is well worth picking up though readers of the series will be a little disappointed in the lack of movement to find Maverick. However as the novel can be read as a stand alone it reads as a really wonderful "second chance" love story.

Book Info:

Publication: November 7th 2017 | Harlequin Desire | Texas Cattleman's Club: Blackmail #11
A temporary tryst with a sexy Texan…no problem, right?
All it takes is a daring out-of-character ride on a mechanical bull to send Erin Sinclair straight into the arms of one fine-looking cowboy. With Royal, Texas, on edge over the criminal targeting their secrets, she needs to blow off steam. Dan Hunt is happy to give the ex-nanny the time of her life, but the rich rancher insists he doesn't do relationships. With Erin leaving Royal in a matter of weeks, why not have a no-strings affair? Even if it feels like it could be the commitment of a lifetime…