Romancing the Bachelor by Diane Alberts: Shelby can't wait to leave Atlanta. She is not a city girl, and the only reason she even moved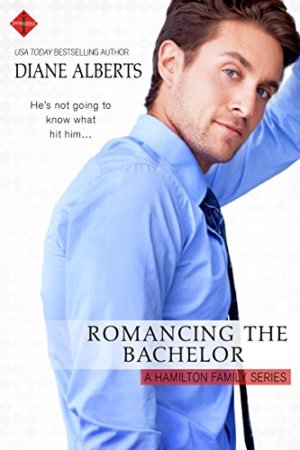 there was because of a guy – and not a very good guy at that. Now, she's applying to jobs in any small town she can find and she knows no longer will she follow any guy around.
Eric has his five year plan working his way up in his law firm and building his own home in Atlanta. The last thing he expects is for Shelby to pop into his life and shake up all his plans. And when she rejects his advances, he'll do whatever he can, even be just friends, just to have his live shaken up a bit more by her.
Shelby falls hard and fast for the irresistible Eric. He makes her laugh more than she has in ages, and he exposes her to a side of herself she had cut off years ago due to the end of her bad relationship. But when their futures are heading separate places, it looks like they can't be anything but a fling.
"Come on. At least tell me your name," he called out.
"But you're a smart, persistent, patient guy" – she shot him what she hoped was a screw-off smile – "I', sure you'll figure it out."
Romancing the Bachelor is short and sweet, and purely focused on the romance between Eric and Shelby. Honestly, they're totally cute together. Both are kind of shut off, focused on work and their plans. But together they light up and open the world for the other.
They did fall in love rather quickly, so I can't say there's much depth to the relationship, or either character since the story is short, but I liked what I read. Shelby and Eric are enjoyable characters to read about, and I really appreciated that the story focused in so much on their interactions and their adorable little flirtations. Their conflict did feel real, too. I wasn't actually sure how it was going to work out. And while I may not be totally convinced with the ending, it did leave me with a sweet feeling.
For those wanting short, sweet, and passionate, I recommend Alberts' Romancing the Bachelor. I loved the stages of lust to friendship to love in this journey, and definitely encourage giving it a read.

Book Info:

Publication: May 15, 2017 | Entangled Indulgence | Hamilton Family #2
Eric Hamilton isn't looking for love. Hell, he isn't even looking for a girl. He has a five-year plan, and he's one hundred percent focused on that. But then Shelby walks into his life, and suddenly, he can't think about anything else. Unfortunately for him, she hates his guts, and wants nothing to do with him. But he's a man who loves a challenge.
Shelby Jefferson can't wait to get out of the city, and back to her country roots. She moved to Atlanta for a guy who promptly left her, and the last thing she wants is to fall for another man who might make her want to stay. But Eric is nothing if not persistent, and before long she's inside his arms, in his bed, and she's falling for him. Hard. But when history repeats itself, and she has to choose between a man and herself––again.