Striking A Chord (Backstage Pass #3) by Dani Wade: It seems that romances centered around a guy in a rock band are very mainstream right now and Striking A Chord is a welcome addition to the Performer trope. This is the story about Sean Rosslair, the hot talented drummer from the successful American rock group Solar Uprising. Presently, the band is on tour in Dublin, which just happens to be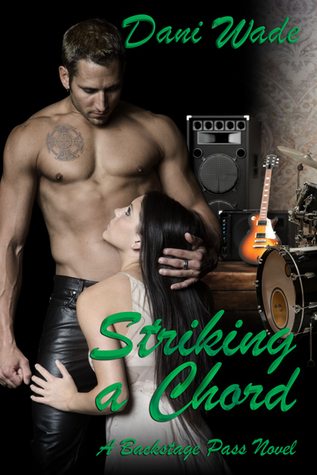 Sean's hometown. Due to a huge blowout with his father, Sean hasn't seen his family in over ten years. Meghan, his personal assistant of only three months, arranges for Sean to see his brother at the end of one of his gigs.
Meghan was a somewhat happy housewife and preschool teacher before her life imploded. Her ex-husband exploited her sexual fantasies and desires in open court during their divorce litigation. Meghan was embarrassed and humiliated, in addition to being basically shunned by her family and community. Being a plus-size and curvy woman, only added to her embarrassment and self-esteem issues. She enjoys working for Sean, mainly because she can be flirty and fun, while hiding her appearance behind email, texting and phone calls. Meeting Sean for the first time in Dublin, has her stomach in knots.
Sean and Meghan are great together as workmates as well as bedmates. Sean has lusted after Meghan's sexy voice from the moment he hired her, so meeting her in person is just icing on the cake. He makes the most of her submissive side by knowing what she needs and desires sexually. Sean makes her feel beautiful in every way possible. Meghan is Sean's rock, helping him deal with the past and establishing new bonds with his ailing father and brother. Unfortunately, Grandma has a real issue with his return and does everything in her power to prevent him from inheriting his father's wealth.
Although this is Ms. Wade's third book in her Backstage Pass series, it can be read as a standalone. I found the Grandma storyline to be quite original and surprising, due to my preconception of the typical eighty-something Grandma. Romantic suspense is not my cup of tea, yet I liked this story anyway because of Ms. Wade's ability to add the suspense subtlety. If you like passionate spankings via hand and crop, in addition to lots of hot sex with a decent story, check out this book.
Book Info:

Published July 2nd 2014 | (Backstage Pass #3)
Success as a US rock star is payback to Irish drummer Sean Rosslair, whose father insisted music was a waste. Now Sean just needs to see the body to go with the smokin' sexy voice of his new assistant, and his world will feel complete. But she ends up being the very woman he should never have.
Anxious to do a good deed, Meghan finally exposes her plus-size presence to her boss. Only he doesn't react the way she expects—to her body or his brother. She takes her punishment for her white lie well—too well. Meghan can't refrain from begging her boss for another spanking…but can she let go enough to embrace romance with a rockstar?
Can Sean teach Meghan his erotic secrets before a hidden enemy puts him out of commission—permanently?
Caution: This book contains sassy dialogue, dark secrets, and a hero who knows how to transform pain into pleasure.