The Thing About Love by Kim Karr: Kim Karr is an auto-buy author for me because her romances are always the ideal blend of sexy,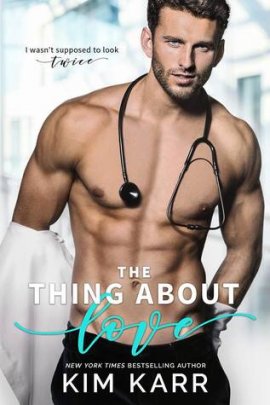 emotional and entertaining, and The Thing About Love reinforces why I adore her writing.
Jules Easton and Jake Kissinger meet under awkward circumstances and get off on the wrong foot, and neither are big fans of the other. But they are forced to stay in each other's orbits when Jules is hired to plan Jake's sister's wedding, and he's the point person on every decision. They clash and traded pointed barbs, but simmering beneath their verbal warfare is an attraction that is explosive. Their fall into bed is inevitable, and they are smoldering together.
Jake and Jule's physical relationship opens the door to an emotional connection, and they fall for each other hard. But both have painful histories that make them hesitant to drop their boundaries and accept their burgeoning feelings. Kim Karr meticulously develops their love story but doesn't make it typical or predictable.
Book Info:


Publication: 1/3/18 | Self-published 0 Kim Karr |
The whole stethoscope-and-white coat thing isn't my cup of tea.
I prefer a man with an artistic vein in his body. 9 – 5 hours. And I can definitely do without the half-lidded, sleepy bedroom eyes. (Okay, so those are kind of sexy.)
Tall, dark, and handsome doesn't change the fact that he's arrogant, cocky, and rude.
Not that I care, but he's made it clear he wants nothing to do with a quirky girl like me, which is why he said no.
Turns out no isn't an option.
I have a quickie wedding to plan, and Dr. Jake Kissinger doesn't have a choice. He looks at our situation like he's stuck with me, but in reality I'm stuck with him. Stuck with his pouty mouth. His long, lean body. And stuck with those loose, low riding scrub pants. (Okay, so the doctor thing is growing on me.)
When spending time together turns into more than it should, I know I'm in trouble.
He isn't supposed to make my heart pound.
I'm not supposed to make him look twice.
And we aren't supposed to spend the night together. (Okay, so he has more than one artistic vein in his body, and other places.)
Falling for him is definitely a mistake.
Here's the thing…
Jake is unavailable, and I know it.
Just not in the way you might think.
I guess you can't have your cake and eat it too.