In Martinez's Pregnant Wife(Convenient Christmas Brides #2) by Rachael Thomas (HQN), Lisa was so in love with her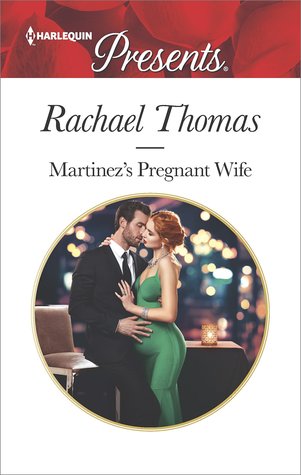 husband Maximiliano 'Max' Martinez, but when he broke her heart she knew the only way to pick up the pieces was to ask for a divorce. However, things don't go according to plan, and instead, Lisa discovers she's pregnant. Will Max be able to overcome what's keeping him from giving Lisa everything she deserves, or will he lose the woman he loves for good because he can't let go of the past?
"Is this really what you want?"
He looked at her, dark eyes hooded with building desire. "We had something good, Lisa, and I have every intention of finding it again, especially as it is Christmas."
The first book of this series was an absolutely captivating read about half-brothers that are meeting for the first time because of a condition in their father's will, and this second book was just as entertaining. Will Max be able to let o of his resentment and handle being around his brother knowing Raul is the legitimate son of the family? The way this story started with the prologue opens the book brilliantly and gave me — as a reader — wonderful knowledge of the hero and heroine's relationship, as Lisa was determined to finally let Max go and move on with life, except things don't turn out the way she planned.
The dialogue was intense due to the main characters back stories, especially that of the hero because he doesn't believe he has what it takes to be in a relationship and he'd rather end things with the heroine than give her false hope. Will the heroine prove to the hero that they're good together and she'll be there for him through thick and thin? Will the hero realize that a future with Lisa could work before it's too late? Moreover, the heroine is strong and brave in dealing with everything the hero puts her through. Should she give up on Max or continue to push him to see that they're good together? I also liked how she helps Max to enjoy a time of the year that he doesn't normally like to celebrate, because it's a start to healing from the hurts of his past. Yet, what I liked most of all about the heroine was her determination to give their child a better childhood than she and Max had. No way would she allow their child to grow up knowing they were only together for the sake of their child, even if it meant walking away from the man she loved for good.
"I have always wanted children, one day, although I am only too aware you don't feel the same. I could never subject a child to the kind of childhood either of us experienced, but the fact is that I am pregnant and you made me feel that it was all my fault. We both drank too much wine, Max, both allowed ourselves to forget all we'd agreed on about being professional."
While the hero, he's been through so much in his life in not dealing with the death of his mother all that well and feeling like he was second best to his brother has made him fearful of relationships and getting hurt again like his dad hurt him in the past. However, in saying that, I liked how hard he worked to do what's right by Lisa and their child, even though it isn't easy for him to let someone in. Yet, what I liked most of all about the hero is his determination to get to know his half-brother and that he allowed those that care about him including Raul's mother to give him advice about relationships before he lost Lisa for good.
"We should talk about this somewhere else. I didn't intend such a public goodbye." She began to move, to walk away, hoping he would follow her. Instead he grabbed her wrist.
"Lisa, I couldn't tell you. If I did it would have meant opening my heart, letting love in and love has only ever caused me pain – and loss."
"It doesn't have to be like that, Max. It can be good, so very good."
Overall, Ms. Thomas has delivered another delightful and enthralling read for this series, which encompassed secondary characters that I adored just as much as Max and Lisa; plenty of emotion that had me sympathizing with the main characters; plenty of intense chemistry between this couple that spilled over onto the pages through nicely-detailed romantic moments; and the ending had me worried for this couple's happy ever after because Max doesn't know whether he can let go of the past. However, in saying that, I liked how brave Max was when it comes to winning Lisa back because pouring his heart out the way he does isn't easy. However, it was the epilogue that wrapped this story up nicely, because love, family and happiness is good for Max. I would recommend Martinez's Pregnant Wife by Rachael Thomas, if you enjoy second chance romances or books by authors Caitlin Crews, Dani Collins, Bella Frances and Angela Bissell.

Book Info:

Publication: December 18th, 2017 | Harlequin Presents | Convenient Christmas Brides #2
Expecting her husband's baby
When Lisa Martinez last saw her estranged husband, Maximiliano, she was walking out on their relationship for good. Her heart and dignity in tatters after once more giving in to the temptation of Max's seduction, she knew divorce was her only option. Except Lisa's heartbreaking plans are halted by unexpected nine-month consequences!
Max never wanted a family, so Lisa is appalled when he refuses to relinquish his child and demands she return to their marriage bed! For their unborn baby's sake, Lisa agrees. Dare she hope to find more than mindless pleasure in her husband's arms