The Trouble with #9 by Piper Rayne is the second book in the new Hockey Hotties series. It can be read as a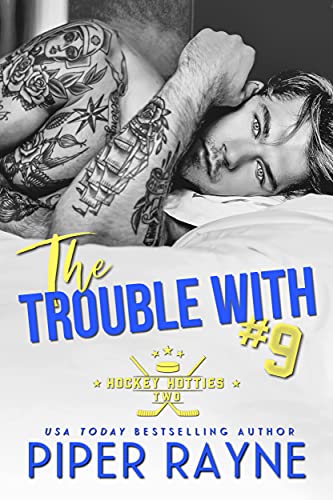 stand-alone but fair warning after you start reading it you will want to read the first book. It was a fast-paced, easy-to-read book with some humor and emotional moments. The writing duo certainly scored again with another steamy hockey romance.
Before coming to America, Maksim Petrov lost his best friend in a car accident and still felt guilty because he was the one driving the car. He takes his job of protecting his teammates on the Florida Fury hockey team seriously. This season he has found himself in the penalty box a lot. When the team's owner demands, the entire team must talk to a therapist, Maksim tries to avoid it. He has no reason to talk to the therapist, who he kissed on New Year's Eve, except to ask her out on a date.
Paisley Pearce is the new therapist for the Fury's team. After kissing Maksim on New Year's Eve and discovering he was on the team she would be counseling, all she can do is forget the past and be professional. She has a rule for not dating hockey players and especially ones she has been hired to provide therapy for. But Maksim does not play by the rules, and she finds herself giving in to the temptation.
I was so excited to read this book after reading the prequel Countdown to a Kiss. Maksim was tough on the ice and a protector by nature, but he had the heart of a teddy bear. He was so sincere and sweet in his quest to date Paisley and the dates he took her on showed how serious and thoughtful he was. I enjoyed seeing this side of him since his character on the ice was so hot-tempered and aggressive. Paisley was so sweet and really wanted to help Maksim but he did not see the value in therapy until it was almost too late. The end of the book sets the stage for the next book and I cannot wait for Ford's story.

Book Info:

Publication: August 10th 2021 | Piper Rayne Inc. | Hockey Hotties #2
Trouble.
One word that comes to mind when someone talks about me. I like to think of it as protection, watching out for the ones I love. But now I'm spending more time in the penalty box than on the ice and the team owner isn't happy.
Finding myself across the room from the hot therapist I kissed on New Year's Eve only makes me push my problems down further. I want couch time with her but not the kind she's used to.
I decide to lie to her just to finish off my therapy so I can do what I really want—date her—even if she says she doesn't date hockey players. Just when my therapy sessions are up and I've made some headway with Paisley, it's my parents who throw another wrench in my plans.
If I abide by my parent's wishes to marry the one they've chosen, I'll lose Paisley forever. But if I go against my parents, I'm failing my deceased best friend all over again.