Today, HJ is pleased to share with you

Chantal Fernando's

new release: 

Custom Love

The thrilling conclusion to New York Times bestselling author Chantal Fernando's Fast & Fury series, fully loaded with intense emotions and edge-of-your-seat suspense.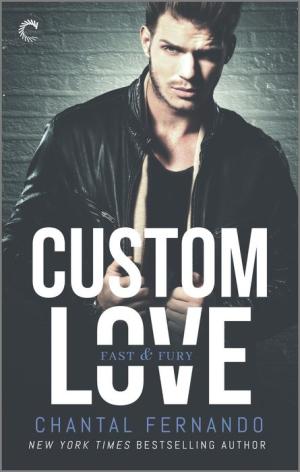 All she wanted was the truth.
All he wanted was to be left alone.
Nadia has always been in charge of her life. As a private investigator, she makes her own hours and only takes on cases that she wants to work on. But when a family friend asks her to look into a case, she instantly regrets it—it hits far too close to home.
The last thing she wants to do is rip open old wounds. Especially Trade's, the single father she's been spending time with. It isn't long before she's falling not just for him, but for the kids he's trying so hard to protect.
But the little voice in Nadia's head tells her that something isn't right, and she's determined to find the truth. Using her connections to the Knights of Fury MC and the Fast & Fury motorcycle garage to gather evidence, Nadia uncovers evidence of a conspiracy that will leave everyone shaken—and force her and Trade to do whatever it takes to keep their new family safe.
Enjoy an exclusive excerpt from Custom Love 
Trade arrives on time, which I appreciate, and comes to the front door and knocks. He looks so handsome even in just jeans and a black shirt, and he smiles as I open the door.
"You look beautiful," he murmurs.
"You clean up well yourself," I reply, stepping out the door and locking it behind me. The scent of his co-logne hits me and makes me want to jump him. "Thank you for the flowers today—I loved them."
"I'm glad," he replies, walking to his truck with me and opening the passenger-side door. He's such a gentle¬man and being chivalrous just comes naturally to him, but it means a lot to me. I haven't been on a date in so long and I know he's going to make sure it's a wonder¬ful one, because that's just the type of man that he is.
"So where are we going?" I ask as he gets into the driver's seat. I was a little nervous before he arrived, but now that he's here I just feel…content.
Like I'm where I'm meant to be.
"Well, I checked a few places out because I wanted it to be somewhere new, somewhere hopefully neither of us have been before and somewhere you would love," he admits, turning down the music a little. "So I settled on a seafood restaurant, because Bronte mentioned that you love seafood, especially crayfish."
"So you've done your research," I reply, impressed. "I do love seafood, but I pretty much love any type of food. I'm not too fussy on that front."
"Good to know. It's been a while since I've been out to eat, never mind on a date, so I might be a little rusty."
"You and me both." "Why don't you go out on dates? You're beautiful, successful, ambitious, kind… I could go on…"
I laugh. "Honestly, I'm always busy with work. In my experience men always say that they want a strong, independent woman, but when it comes to dating one? That's another thing. I do spend a lot of time at work and it's a job I take home with me, too. Men don't like that. At least my last ex-boyfriend didn't, and after we broke up I never bothered dating anyone else. It's not that I've been opposed to it… I guess I hadn't met any-one who really caught my eye."
Until now.
I glance over at him, and as though he could hear my thoughts, he smiles, reaches over and takes my hand. "I like that you are so passionate about what you do, and I'd never hold you back from that. From what I've seen so far, I like you just the way you are. I didn't plan on dating again; I just wanted to focus on the kids and feel sorry for myself. But I like you, Nadia. I like spending time with you, I like seeing you smile. And I know that means something. You are an amazing woman. I know I come with a lot. I have kids and a past and all of that—"
"I like you just as you are, too," I reply.
I accept him just as he is, with the kids, with the past, with everything.
"I think at this point in our lives, we need to either accept each other as we are, right now, in this moment, and all that comes with that, or we don't bother," I say. "Or at least we try to learn to."
This conversation got deep really soon—we haven't even made it to the restaurant yet—but we're laying it all out on the table. I guess when you're dating someone with kids, you kind of have to. He has to think about the kids first, and I understand that. The children should always be put first in any situation.
"So considering you're sitting here, I'm going to as¬sume the whole four kids thing isn't a deal breaker for you."
I laugh. "No, it's not. I've never dated anyone with kids before, though, and besides Quinn I haven't spent much time with children."
"I wouldn't have guessed that. You are wonderful with my children. After the dinner we had at my house, the kids all gave you the seal of approval."
"Did they? That's good to know. Is that what that dinner was? A predate to make sure that I pass all the tests?" I ask, lifting my brow.
"It wasn't a test, but I did want the kids to spend some time with you, and they all gave me the thumbs-up. They think you are great, even Alia, and she hardly likes anyone. But if they didn't it would be kind of hard to date you, so luckily for me they approve."
"Lucky for me, more like it. I've said it once and I'll say it again: you are a good father," I say.
"Thank you," he replies, running his thumb along my knuckles. "I try, that's for sure."
We arrive at the restaurant. Trade opens my door for me and guides me to the entrance with his hand on the small of my back. My senses are all on alert, and every time he touches me it's electric. I don't know if it's because it's been so long or because it's him, but I think it's a mix of both.
I wonder if he feels it, too.
Excerpt. ©Chantal Fernando. Posted by arrangement with the publisher. All rights reserved.


Giveaway:

1 Mass market paperback copy of CUSTOM LOVE by Chantal Fernando (open to U.S. and Canada).
To enter Giveaway: Please complete the Rafflecopter form and post a comment to this Q:

What did you think of the excerpt spotlighted here? Leave a comment with your thoughts on the book…
Meet the Author:
Chantal Fernando is the New York Times, USA Today and Amazon Bestselling Author of numerous novels, including Maybe This Time, The Wind Dragons MC Series, The Cursed Ravens MC and many more. Born in Sri Lanka, Chantal moved to Western Australia as a child, where she still resides. Chantal has published over thirty novels, and has no intention of slowing down. When not reading, writing or daydreaming, she can be found enjoying life with her three sons and family.
Buy: Amazon | Barnes & Noble | Apple | Google | Kobo

Fast & Fury
Book 1: Custom Built
Book 2: Custom Made
Book 3: Custom Love
Also by Chantal Fernando:
Knights of Fury
Book 1: Saint
Book 2: Renegade
Book 3: Temper