In Stronger Than You Know (McKenzies of Ridge Trail #2) by Lori Foster From the first day Kennedy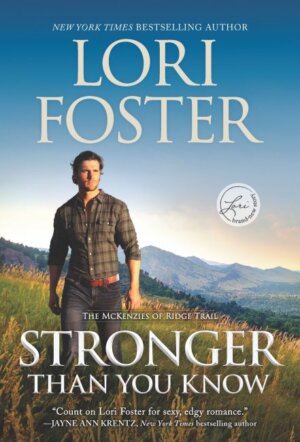 Brooks stepped foot in her local gym, she knew that its owner, Reyes McKenzie, was more than an ordinary businessman. He has an edge about him that would have her heading for cover if she didn't inherently know that he'd never harm a woman. After surviving her own personal hell, Kennedy knows enough to trust her instincts. So when her past catches up to her, she doesn't think twice about going to Reyes for help. Turns out that he and his family know a thing or twenty about protecting women. But Kennedy doesn't want to put them in danger. Even if they insist on watching her back. And along with that, her attraction to Reyes–something that already took her by surprise–is growing into something much more.
"You like snuggling, right?"
No way would she admit that her life had been devoid of anything even close to snuggling. Get that close to a man? No thanks. Reyes though…
"Don't know about you, but I could use some human contact. Strictly platonic. No hanky-panky." He put his nose in the air. "I'm not that easy, so don't get any ideas."
Leave it to Reyes to be attracted to a savvy, aloof woman carrying the weight of the world on her shoulders. Kennedy has stayed in his thoughts since he first saw her in his gym. Particularly since he realized there's a reason she's practicing defense moves and is wary of, well, everyone. Reyes is more than willing to jump in when Kennedy's world turns upside down, leaving her with nothing and nowhere to go. Of course he would help anyone in her situation. But bringing her to his home, and then not wanting to let her go once the danger is over? That's all new for Reyes. His formerly private life has been enhanced and brightened by the gorgeous woman. Now it's his turn to try to bring some light into her life and show her what love and affection can do to heal old wounds.
'He wanted to surround her with his strength, protect her against the world.'
I can always count on Lori Foster for an enjoyable read but Stronger Than You Know turned out to be a totally addictive novel that blew me away with its family-centric storyline and strong cast of characters.
'She'd learned to remind herself that as long as her heart beat, she was alive.
And as long as she was alive, she had hope.
Tonight she had more than hope.
She had Reyes McKenzie.'
I've been hooked on Lori Foster's work for years and I've come to expect we'll get alpha heroes with a good heart and heroines who are equally as strong. Of course, each couple and each story is unique. And that can definitely be said about Reyes and Kennedy. The same underlying premise was prevalent from book one (No Holding Back) with the McKenzie family–siblings Cade, Reyes and Madison, along with their father, Parrish–fighting to take down human traffickers. But Kennedy and Reyes's relationship was completely different from Cade & Sterling in book one. As was Kennedy's situation and the way she went about overcoming her terrible past.
Reyes already caught my attention in book one so I was thrilled to get more in depth with him here. He came across as a badass of course, but also a guy who liked to tease his siblings–and Sterling, Cade's love interest–mercilessly. (So fun!) But Reyes also proved to be protective, fiercely loyal, unquestioningly kind, and sexy as all get-out. He was exactly what Kennedy needed in her life. And even though he thought of himself as a lifetime bachelor and it freaked him out a bit about his feelings for Kennedy, I appreciated how Foster described Reyes coming to terms with everything in a realistic way.
Kennedy, boy, my heart went out to her. She was the polar opposite type of personality from our heroine in book one, Sterling. But she was no less brave or resilient. Kennedy had a quiet strength, one of intelligence and planning whenever possible. It was interesting to see how she had already picked up on Reyes being more than a gym owner, knowing he was someone you didn't want to tangle with…if you were a bad guy. And Kennedy's gut telling her she could trust Reyes when her world went sideways, that's when the magic began. I loved them together. They complemented each other in personality and worked great as a team to take out the villains.
There was no sophomore slump in the McKenzies of Ridge Trail series for Lori Foster. Nope. Stronger Than You Know was all heart, heat, and high-octane danger. And I hated to see it end. But fear not–there's one more McKenzie sibling, Madison, who will get her turn at a HEA up next in Watching Over You. Can't wait!
Book Info:

Publication: August 24, 2021 | HQN Books | McKenzies of Ridge Trail #2
Their secrets run deep, but desire runs deeper…
Kennedy Brooks has spent years learning how to protect herself, and empowering other women to do the same. Still, there are some hazards that can't be predicted. That includes Reyes McKenzie, who owns her local gym. Strong, capable, and watchful, he seems like the one man who might understand her past. For once, Kennedy is tempted to let her guard down—something she's vowed never to do.
The moment petite, fiercely determined Kennedy walked into his gym, Reyes knew that she carried secrets. What he didn't expect was that she could tell the same about him. When trouble tracks her down, she turns to Reyes, unleashing a maelstrom of protective instinct and mutual desire. But will her need for him end when the danger does, or will they take the ultimate risk—on each other?
"Emotionally spellbinding and wicked hot."—Lora Leigh, New York Times bestselling author, on No Limits
The McKenzies of Ridge Trail
Book 1: No Holding Back
Book 2: Stronger Than You Know
Book 3: Watching Over You