The Trouble with Honor by Julia London starts with a scandal. A group of debutantes enter a gaming hell in search of adventure, and one, Honor Cabot, stepdaughter to the Earl of Beckington, actually sits down at a table with George Easton, the unacknowledged bastard son of the Duke of Gloucester, and plays cards. At the end of the night, she is one hundred pounds richer, society is scandalized, and George Easton is fascinated.
"She was not like what he would have supposed for a debutante. She was witty and playful, delighting in her small victories, debating the play of her card with whomever happened to be standing behind her."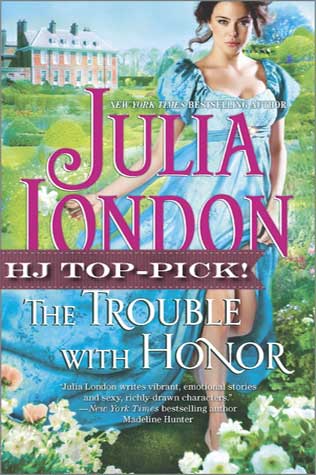 However, Honor Cabot is a troubled young woman. Disappointed in romance, she is a "swashbucker:" bold and overly forward without ever actually crossing the line. Cheerful and sunny on the outside, she has many worries at home; her stepfather is dying of consumption, her mother is slowly sliding into dementia, her three younger sisters rely on her, and her stepbrother is engaged to marry a woman who she doesn't get along with. To win some time to figure things out, Honor devises a desperate and immoral plan: to get the very handsome George Easton to seduce her soon-to-be stepsister-in-law.
George Easton is rake and a gambler, with a bit of an inferiority complex because of his illegitimate status, being the child of a duke and a chambermaid. Smarter than he appears, he has invested most of his money on shipping cotton from India to England and has worked hard to raise his status. Although even as he finds Honor's scheme reprehensible he is intrigued and drawn to her, and with the slight enticement of getting back ninety-two of his one hundred pounds, he agrees to the scheme.
So Honor and George become co-conspirators, feeling that they are the same sort of people at heart ("high-steppers" as George likes to think, like a horse that is trained to never stray from his path) but while they are scheming they are falling for each other. Sadly, due to the differences in their stations, it seems all rather futile:
"…George Eaton was the sort of man no woman could ever possess, she knew that. He was a man without connection, a man that no father, no brother, would ever allow a daughter or sister to wed."
This is a compelling story. At the start, both George and Honor are rather cold and unlikeable, but, through trials, emotional upheavals and rather dreadful scheming, they do manage to come together for their HEA, and become warmer, more likable people. Julia London has a gift in that she can make us care for characters that do unlikeable things, and Honor is characterized as a charming and caring, if immature, young woman. And therein lies my primary suspension of belief moment: how does a man of thirty-one years find a beautiful, yet scheming, young woman of twenty so attractive? However, what's clever is that even George knows it's unlikely, but sweeps us readers along with him for the ride.
"Absolutely you, love," he said, smiling. "You are a careless, indiscreet, absurdly brazen young woman, who wishes she were not as innocent as she is, and honestly, I have never been more goddamned intrigued."
I liked this book; it was well written, and smooth from start to finish. The main characters have dimension and the cast of supporting characters is full and rich, ranging form Honor's three sisters (Grace, Prudence and Mercy), stepbrother Augustine and his fiancée Monica, and Finnegan, George's much too handsome and popular valet. As The Trouble with Honor is the first book of the Cabot Sisters series for Harlequin HQN, it is inevitable that each sister will get their own book, and I look forward to reading the further adventures of "The Virtues!"
Book Info:

Publication: February 25th 2014 by Harlequin HQN
Desperate times call for daring measures as Honor Cabot, the eldest stepdaughter of the wealthy Earl of Beckington, awaits her family's ruin. Upon the earl's death she and her sisters stand to lose the luxury of their grand home – and their place on the pedestal of society – to their stepbrother and his social-climbing fiancée. Forced to act quickly, Honor makes a devil's bargain with the only rogue in London who can seduce her stepbrother's fiancée out of the Cabots' lives for good.
An illegitimate son of a duke, George Easton was born of scandal and grows his fortune through dangerous risks. But now he and Honor are dabbling in a perilous dance of seduction that puts her reputation and his jaded heart on the line. And as unexpected desire threatens to change the rules of their secret game, the stakes may become too high even for a notorious gambler and a determined, free-spirited debutante to handle.