In The Truest Thing (Hart's Boardwalk #4) by Samantha Young, Hartwell seemed like the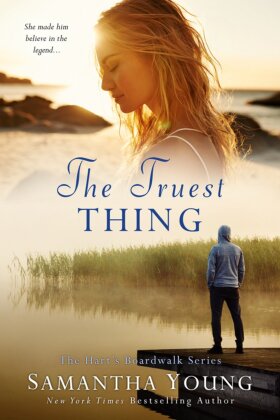 perfect sleepy little town for new bookstore owner Emery Saunders to put down roots. And she wasn't wrong in her decision. But it does take a while–okay, years–for her to open up to the other business owners and locals. Making friends has never been easy for Emery. So when she immediately feels safe around town heartthrob Jack Devlin? She's pretty well shocked. Sadly their relationship is a series of miscommunication, missed opportunities, and stubborn pride that takes Emery years before admitting what she feels for Jack. But will he just end up breaking her heart if she hands it over to him?
'I wanted someone who would put me first because I intended to always put them first…
I wanted what my friends had.
I wanted an epic love.
I wanted a piece of the legend of Hart's Boardwalk.'
Jack Devlin has always had his father's dirty business dealings hanging over his head, no matter what he does in Hartwell to prove himself as the polar opposite. That's why when stunning but shy Emery opens her business on the boardwalk and she shows an interest in him, Jack wishes things were different so he could pursue her. Their chances are definitely dashed when his father blackmails him. The only thing he can do is go along with it and hope he can find a way to take his father down in the future. But when the day finally comes, will it be too late for Jack to prove his true feelings to Emery? Or will they get their moment in the sun, nine long years since they first met?
'What would it be like to lie with her skin to skin, wrapped up together, just breathing each other in? To confide everything and have her be a safe place to fall?'
Oh the angst and the drama. But oh what a sweet thing it was to see a decade-long romance finally (finally!!) play out. Talk about a slow burn, right? Samantha Young's The Truest Thing gave Hart's Boardwalk fans the firsthand look at Jack & Emery's tumultuous relationship they've been waiting for. And it was definitely worth all of the ups and downs.
"Do you know how much I love you?" he asked, his voice hoarse, his gaze searching my face for the answer he already knew.
"I do." I looked up at him with all the love and belief I had inside of me. "It's the truest thing I've ever known."
Trigger warning: View Spoiler »Rape, murder, domestic abuse, cheating. « Hide Spoiler
Like the other books I've read from Samantha Young, The Truest Thing was a wonderful blend of swoony hero, strong heroine, memorable supporting cast, sweeping romance, and tough situations–some quite dark, actually–for everyone to get through. And that mash up works quite well for me every single time. I liked that Young included that balance of incredibly good and terribly bad over the whole nine years we followed our love birds.
I'm going to whine a little bit about how I had a tough time with some of the decisions Jack made over the years and with how *freaking long* Emery pushed him away. (lol) I got the reasoning behind it. But it still frustrated me to see how Jack went from being a stand up guy in comparison to his downright evil father and older brother(s) to being the town pariah. And where Jack chose his family as a priority instead of taking steps forward in his relationship with Emery, I got why she didn't trust him–particularly with her backstory. But oh my word…I wanted to lock them in a room and not let them out until they admitted what they had together! And so did their friends…
But seriously, there was way more to love about Emery and Jack than there was to grumble over. Probably my favorite part was watching how shy, bookish Emery eventually opened up to Jess, Bailey, Iris, Dahlia, and Ivy, letting herself care about them and have true friends for the first time ever, really. Which was a big step. And Jack's part of the story, well…I won't spoil it, but let's say he did redeem himself by the sigh-worthy ending.
If you're looking for a small-town romance with a whole host of characters you can't help but love and something you can read as a standalone *or* as part of a stellar series, The Truest Thing is just the book for you.
Book Info:

Publication: Published August 18th 2020 | Samantha Young | Hart's Boardwalk #4
Nine years ago, Emery Saunders moved to Hartwell to start her life over as a bookstore owner. Her inability to trust people made it hard for her to find a place in the small community until Jessica Lawson moved to town and befriended the shy beauty.
But there was one person in Hartwell who tried to befriend Emery long before Jessica arrived…
Jack Devlin has his secrets. One of them is that he fell hard for Emery the moment she appeared in Hartwell. Another is that his father blackmailed him into covering up a dark family tragedy. It forced Jack to sever his relationships to protect the people he cared about. Yet, staying away from Emery has not been easy throughout the years and he hasn't always succeeded. When Jack's mixed signals hurt Emery once again, she puts him out of her heart for good.
Until the Devlin family secret is finally revealed, freeing Jack from his father's machinations. What Jack wants more than anything is to repair his relationships, starting with Emery.
However, Emery isn't ready to forgive and Jack's not ready to give up.
And when the town's latest scandal ties Jack and Emery together, Jack is not above using their new reality to prove to Emery once and for all that their love is worthy of the legend of Hart's Boardwalk.