The Blood King by Abigail Owen is the second book in the Inferno Rising series. The four Amon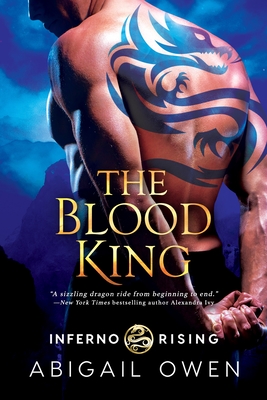 sisters are phoenixes, having received their powers after their mother was killed by the dragon High King. In a last-ditch effort to save her daughters, she transported each one to a different area to people who could keep them safe. Skylar, the eldest sister, finds one of her sisters, Kasia, mated to the rightful golden dragon king, Brand Asterot. With her own hatred towards dragons, Skylar can't believe Kasia would willing mate a dragon so she shows up at the lair of the blue dragons to save her, only to be surprised by the truth.
King of the blue dragons, Ladon Ormarr, is determined to change the leadership of the dragons. He wants the current High King gone, along with all those under his control. To do that, he needs the have all the phoenixes on his side, as it's believed that in order to be High King, a dragon needs to mate with a phoenix. When Skylar bursts into a meeting and tries to take on both Kasia's mate and himself, he can't help but be intrigued. When he suggests mating for the good of the cause, she's skeptical. With a little convincing from her sister, however, she agrees. Little does she know the danger that's about to unfold as the High King focuses his attention on finding all four sisters.
I enjoyed Ladon and Skylar. Both are stubborn, sometimes to a fault, but underneath is all they both have big hearts that they try to hide from everyone else. Ladon never wanted to be king of the blue dragons, but he took the role knowing he was the best option to save them. Skylar loves her sisters and is fiercely protective of them; she's willing to sacrifice herself to ensure their safety. She's also not afraid to stand up for herself and others, something Ladon respects. They made a good pair.
I haven't read the first book in the series, so I felt like I was missing some background information, especially when it came to how Brand and Ladon had become friends and decided to team up to stop the High King. I was also left wondering how Kasia ended up mating with Brand when she was originally going to mate with Ladon. It didn't take away from my overall enjoyment of the story, but I would still recommend reading the books in order.
The author does well with world-building, allowing readers to understand the dragon world even if jumping into it in book two, like I did. With great characters, an interesting and engaging storyline, and fast-paced action, readers will be drawn into the story from the first page until the last. Fans of paranormal romance, especially those featuring dragons, should give this book a read.

Book Info:

Publication: August 25, 2020 | Entangled: Amara | Inferno Rising #2
Ruthless dragon king Ladon Ormarr must keep his throne at all costs. And now, with war on the horizon, he'll need a miracle. Luckily, the fates have dropped Skylar Amon right into his lap.
Except he may have met his match.
The feisty Amon sister has no fear — of him or any other dragon shifter — is brash, doesn't stick to protocols, and regularly offends his warriors and advisers.
Skylar also has no intention of sticking around. She doesn't believe in the whole destined mates thing and believes all dragon kings to be dangerous. But if it means taking out the High King who murdered her parents, she'll put up with Ladon… temporarily.
But the fates have other plans. And when Skylar disappears in the middle of a battle, Ladon will burn down the world to find her.