Falling for the Texan by Nicole Flockton is the second book in her Prentice Brothers of Sweet Ridge, Texas series. What a delightful story!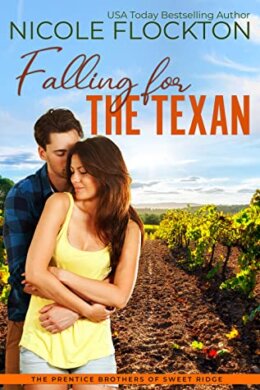 Gianna Lucchia is facing a career crisis. She lost a major advertising account for her employer, Rupert Willington of Willington Advertising. It wasn't her fault the sleazy son of the business owner acted inappropriately and she had to shut him down. Now she has been assigned the job of promoting the launch of a new winery in Sweet Ridge, Texas. She's worried that the success or failure would determine the chances of her keeping her job. Off to "Podunk," Texas she goes.
Gianna is not a small town girl. Nope, she's a fashionable New Yorker. Her parents came from a small, impoverished town in Italy and told her enough about it that she has no plans to ever become a small town girl. Upon arrival in Sweet Water she discovers the town wasn't as bad as she thought it would be. Especially since that's where winery owner Tyler Prentice lives. She knows she shouldn't act upon her attraction to Tyler but is finding it very hard to resist.
Tyler Prentice has put his heart and soul into his winery. His younger brother Tate has running the family peach orchard as his ideal job and his older brother Trey has his baseball career so Tyler's winery is his baby. His friend from college Craig who works for an advertising agency in New York City had agreed to do the promotion for the launch of Tyler's first vintage. Somehow that changed and Gianna Lucchia was assigned the account. Gia was a shock to Tyler. Not only was he attracted to her physically but the way she "got" him was very special. Her ideas for the launch were spot on. Maybe she just might really be his soulmate.
This story is filled with deep emotion and special personal relationships. The small town atmosphere is charming. Learning that Tyler's family really does have his back is one of the aspects of this story that I found endearing. The fact that Gianna understood Tyler so well was a heartwarming part of the story. I really like Ms. Flockton's voice and I am looking forward to big brother Trey's story in the third book in the series, A Merry Texan Christmas.
Book Info:

Publication: August 4th 2020 | Tule Publishing | Prentice Brothers of Sweet Ridge #2
She plans to open his mind. Instead he uncorks her heart.
Tyler Prentice is determined to launch his new winery with a sophisticated and delicious splash. He has a lot riding on this venture—pride, his dreams and all his savings. To ensure the success of his launch, he hires a top marketing firm. But Gianna Lucchia and her marketing plan is not what he expected or wants. Still, he can't stop thinking about her.
Losing a major advertising account is devastating. Having to travel to Nowhere, Texas, to prove she can still create a successful branding campaign is even worse. But Gianna's no quitter. Her plan is simple—get in, create buzz, return home. Except her presentation crashes and burns. Tyler's ideas are different from hers and he wants something else. Her.
Working together on the launch invigorates more than Gianna's creativity. Tyler is sexy, smart and challenges her on so many levels, but Gianna's past threatens to destroy it all. Can Tyler let go of his pride and make an even bigger gamble…on love?