In The Twelve Dates of Christmas by Jenny Bayliss, Kate Turner figured that by her mid-thirties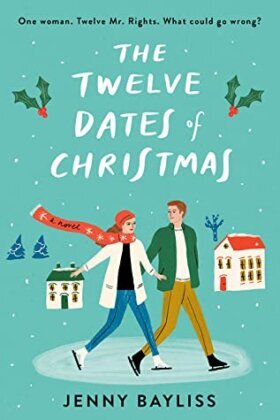 she would have her life pretty well sorted out. But not so much. She has a rewarding career creating beautiful art; a loving bunch of family and friends in their tiny English village of Blexford. But not even a blip on the romance radar is happening these days. So Kate finds herself being talked by her best friend Laura into paying an exorbitant price to get set up on twelve blind dates through a matchmaking agency in the hopes that Mr. Right will be among the dozen men she'll meet. In other words, Kate is wishing for a Christmas miracle.
'She loved Christmas. Of all the holidays, Christmas was the one that replenished her soul and made her feel the most hopeful.'
The dates start off quite rocky, truth be told. And through each one, Kate learns more and more about herself as well as what she's willing to compromise on in her life for the right man. From the near disastrous evenings out that ultimately leave her in uncontrollable laughter to the new friendships she makes, Kate is on a mission. One that her entire village is watching like it's their favorite TV show unfortunately. But as she truly starts to listen to her own instincts, she realizes that as entertaining as her dates have been, Kate might have been looking in the wrong place altogether for romance.
'Kate could no longer deny that she loved him. As impossible and implausible as that love might be, it was love and there was nothing to be done about it.'
A holiday-themed debut rom-com that will have readers laughing themselves silly and sighing contentedly–and craving a mug of hot chocolate!–The Twelve Dates of Christmas was as charming as it gets.
"A few saucy texts doesn't entitle him to the keys to your knickers–unless of course you want him to have them."
"It's been so long," said Kate. "I don't remember where the keys are!"
First off, don't read this book if you're hungry or thirsty because oh. My. Word. The food and drink author Jennifer Bayliss-Jennings described sounded delicious! And it looks like when the final copy comes out it should include some recipes at the back for readers to enjoy. But that was just one of many things that made this such a lovely Christmas story. Adorable English village Blexford was almost like a character itself, with the vivid way Bayliss-Jennings detailed it throughout Kate's excursions. And the offbeat cast of locals who were friends and family of our heroine's were just the icing on the cake.
I thought having Kate set up on twelve dates, all with different guys, leading up to the holiday was a pretty fun premise. And boy didn't she have some doozies! Each date and the subsequent fall out from said date was its own chapter. I won't give away too many specifics but I can say there was some crying involved–and it wasn't Kate who cried–an escape room disaster, and a gingerbread house gone awry. Through it all, poor Kate was a trouper. I really did adore her and although she was picky about her romantic life, I think a lot of it boiled down to fear of failing and of her feelings for someone from her past. It all did work out, but it was a comical, if not bumpy, road to get there.
The Twelve Dates of Christmas started off my holiday reading in the best of ways. From the lively bantering to the endearing cast of characters, this was a story that warmed my heart and left me wanting more time in cozy little Blexford.
Book Info:

Publication: October 13th 2020 | Pub: G.P. Putnam's Sons |
In this hilarious and heartwarming romantic comedy debut, a thirty-something woman who's given up on love is set up on twelve dates with twelve different men in the month leading up to Christmas.
One woman. Twelve Mr. Rights. What could possibly go wrong?
When it comes to relationships, thirty-four-year-old Kate Turner is happy to say "Bah, humbug." After all, the snowy, sleepy town of Blexford, England, isn't exactly brimming with date-worthy prospects. Besides, who needs a man when she's found fulfillment in her career as a designer, and in her delicious side job baking for her childhood friend Matt's neighborhood café? But then her well-meaning best friend signs her up for a dating agency that promises to help lonely singles find love before the holidays. Twenty-three days until Christmas. Twelve dates with twelve different men. The odds must finally be in her favor…right?
Except when one date stands her up, another turns out not to be as single as he pretends, and a third rudely commandeers a gingerbread-making operation, Kate begins to wonder whether it's not her season for romance after all. With the whole town keeping tabs and each new date more disastrous than the one before, Kate reminds herself that sometimes love, like mistletoe, shows up where it's least expected. And maybe, just maybe, it's been right under her nose all along.