The Two Week Arrangement by Kendall Ryan: Dominic is a young, sexy, charming, and workaholic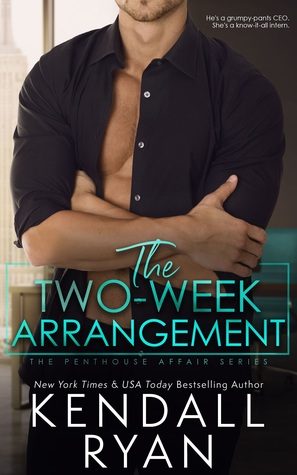 billionaire. He's the CEO of his family's company and he's focused on taking the hotel chain in a more modern direction when he isn't at home playing with his adorable twin daughters. The only relationships he has is with his VP and best friend, nanny, and daughters. He doesn't do love, romance, or commitment.
Presley is a recent college graduate and she can't wait to jump start her career. She's smart, savvy, hard-working, and desperate to start making some money as she's supporting herself and her brother. Getting the prestigious but unpaid internship with Aspen Hotels means she'll be working that much harder to beat out the other interns for a job at the end.
Dominic is intensely private and tries to keep his private life out of the business and media as much as possible. He needs to control his image since he's pretty young to be the CEO and he wants to protect his girls. He likes to be in control, but that control flies out the window when Presley is his intern. There's an immediate attraction on both sides, yet they try to remain professional.
<<<quote>>>
"Outside of working hours, for the next two weeks, I'd like you to pretend to be my…plus-one." I almost say girlfriend, but then decide we're not sixteen anymore.
"A two-week arrangement," she says, her brow furrowed. "We would be coworkers nine to five. And then, after hours, we would be a couple. I understand that much." She pauses, her gaze darting away from mine. "I guess I don't understand what's in it for you. Why now?"
<<<quote>>>
Working with Dominic is both a dream come true and a nightmare since Presley would love to be more than just his intern. The lines are blurred when he asks her to accompany him on business dinners and both get to see another side to each other. He is blunt, caring, and sometimes says the wrong thing. She is charming, outgoing, and curious. Their arrangement seems simple, but gets messy and complicated quickly when they cross the line.
The Two-Week Arrangement entertaining, heartwarming, and sexy. Kendall Ryan provided an engaging forbidden romance with a few surprises along the way. Ms. Ryan created a great cast of characters who love to give unsolicited advice and commentary. The Two -Week Arrangement is the first book in a duet featuring Presley and Dominic. Fans of Whitney G. and Meghan Quinn will enjoy The Two-Week Arrangement.
Book Info:

Publication: June 4th 2019 | Kendall Ryan | Penthouse Affair #1
Dear Sexy AF Intern,
I know you don't particularly care that I'm the CEO of this company, and you're just an intern. I also know you're not impressed by my power or my wealth, and that's fine.
You think you've got me all figured out from working alongside me for two weeks, but you don't know me. Not really.
You don't know that I'm a single dad to twin toddlers, or that those two little girls matter more to me than this entire hotel chain.
I'm not interested in starting something deep and meaningful, but what I am interested in is the way your body reacts to mine when we're in the same room. You probably assume the concentration on my face is work-related, when in reality, I'm figuring out which I want more–to nail you against the wall, or to bend you over my desk.
While you're too disciplined to act on it, I'm not. And the night you stepped into my limo, all bets were off.