In The Surgeon's Convenient Husband by Amy Ruttan, Dr. Ruby Cloutier married Aran Atkinson before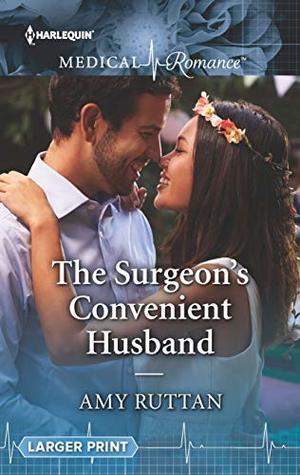 he left for the military five years ago. She married him in hopes of staying in the country, but when he returns home after being injured, she finds her chance of staying could be at risk. However, the more time they spend together, the more Ruby finds herself falling for the wounded soldier that she married for convenience. Will Ruby and Aran be able to put their trust in each other or will they lose their shot at happiness?
Aran nodded. "I'm willing to make this work you know."
"Our marriage?" she asked.
"Right. So that you can get your citizenship, I mean. I still believe in your work like I did five years ago."=
She blushed again. "Thank you. I appreciate that. It means a lot to me. I have a lot of big plans, and Seward Memorial is the first step in making them a reality. I really do appreciate the favor. The sacrifice you made."
What an utterly fascinating, fast-paced, engaging read Ms. Ruttan has delivered in this story that tackles the tough issues of citizenship and post-traumatic stress disorder (PTSD); and encompasses wonderful characters that are wary of relationships but are determined to make their marriage work for the greater good, and entertaining dialogue that had me loving the growing relationship between the hero and heroine. Can Aran and Ruby convince the people that matter most that they're happily married instead of their marriage being one of convenience? Will Aran be able to handle working in such a high-intensity environment alongside Ruby, especially after what happened to him during his time in the military?
The way this story started had me liking the heroine immediately, as her job sounds intriguing and she works hard to help people in remote areas after the loss she suffered. Will she be able to continue to help people the way she has been if things don't go right for her and Aran? Will Ruby be able to help Aran deal with his injury better than he is? Moreover, the main characters are relatable, likeable and I could understand the heroine's passion for her career and her determination to do everything she can to help people after losing someone she loved because they couldn't get the best medical care in time. She's also resilient, courageous, independent, a good leader in the field and I liked that she gave the hero a chance, even though she fears losing someone else she's coming to love.
"Ruby," he whispered against her hair. "Are you sure? I can't promise you anything beyond what we have now."
"Yes. I'm sure. And you know I can't promise you anything either, but I want this, Aran."
"I want this too. I have since the first time I met you and you looked me up and down with such indifference."
"I was your challenge," she teased. "Sorry."
"No, you were more than that. It wasn't that. You were strong and I admired it. Never be sorry for that, or for who you are."
While the hero, I absolutely loved him because of his back story, his determination to not let his injury hold him back from doing what needs to be done in his career and I liked how determined he was to help the heroine. Then again, he needs her just as much as she needs him after everything he's been through in his past. Furthermore, I liked how close the hero and his mom became in this story too since they never really had the best relationship growing up because his mom was too involved with her work. Really, the heroine and his mom aren't all that different when it comes to their obsession with their careers. However, there was one difference and that's that the heroine was willing to fight for her relationship with Aran instead of continuing to fight their future together.
Overall, Ms. Ruttan has delivered an entertaining read in this book where the medical emergencies had me hoping that Aran and Ruby would be able to save every patient; the chemistry between this couple was intense and present from the moment they come face-to-face for the first time in five years and had me loving their determination to fight their feelings; the romance was worth the wait and had me loving their playful banter when they finally admit how much they want each other; and the ending made me so happy for Ruby and Aran, as they both got something they never knew they wanted – the love of a lifetime. However, it was the epilogue that wrapped this story up perfectly because there's so much to celebrate for this couple. I would recommend The Surgeon's Convenient Husband by Amy Ruttan, if you enjoy the marriage of convenience trope, medical romances or books by authors Amalie Berlin, Tina Beckett, Lucy Ryder and Annie O'Neil.
Book Info:

Publication: May 1st, 2019 | Harlequin Medical |
Surprise reunion…with her husband!
Dr. Ruby Cloutier agreed to a marriage with army doc Aran Atkinson in name only so she could continue working in Alaska. Aran's military service has suitably kept them apart—and their attraction at bay—until he unexpectedly returns, more brooding and tempting than ever! Now working together on life-threatening cases, it's getting harder to resist the burning chemistry between them. Suddenly Ruby finds herself inconveniently falling for her convenient husband!