The Tycoon's Fiancee Deal by Katherine Garbera: Needed one fake fiancée to help get a promotion. Needed one man to help get over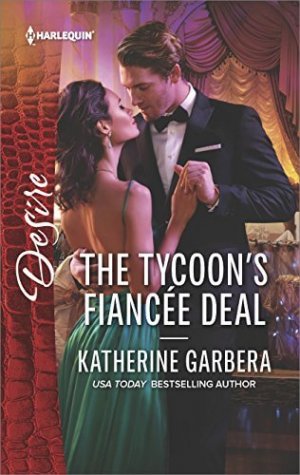 a widowed husband.
Bianca Velasquez knew she needed to get over the man who had been her husband. She needed to get back to herself, regain the person that she was and of course figure out how to live back in the states and raise her son. So she came back home, back to her folks, her hometown and her very best friend.
Derek Caruthers was a good man. He was a fantastic doctor and an all around good guy. So when a tiny blip from his past comes back to put a road block in to his promotion he has to figure out how to get around it and make his dreams come true.
When these two get together they realize that they can help each other out, but will everything last? Or will this only be a temporary deal?
LOVING this series from Ms. Garbera. This book can be read as a stand-alone but the Caruthers' brothers are fascinating. She has given the family such personalities that make them so real. The story jumps off the page and all the folks you are reading about are so great you will just fall in love with them. This is a book you need to just go and get, now.
Book Info:

Publication: August 8th 2017 | Harlequin Desire | Wild Caruthers Bachelors #2
From make-believe to matrimony? Only from USA TODAY bestselling author Katherine Garbera!
Dr. Derek Caruthers is up for the promotion of his life–if he can deflect his boss's romantic designs. His solution? Single mom Bianca Velasquez–longtime buddy turned fake fiancee. Unfortunately, he's feeling more passionate than platonic about beautiful Bianca…
She knows the engagement is only pretend, but seeing Derek with her son and having Derek's strong body next to hers at night feels way too real. Can she convince the stubborn bachelor that he's ready for a spouse?
The Tycoon's Fiancee Deal is part of the Wild Caruthers Bachelors series.