The Flirtation by Tara Sue Me: Lynne loves being a nanny for Nathaniel and Abby, but she also wants to pursue her own dreams of being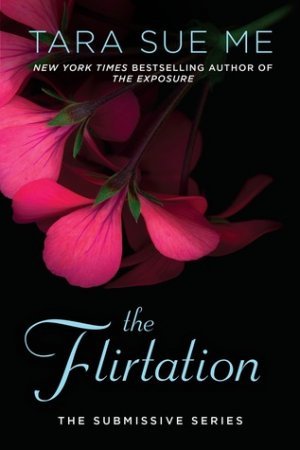 a teacher. When the Wests make it possible for her to get her teaching certificate, she decides it's also time to dive back into the world of BDSM. While she still can't forget Simon, her fist and only Dom, she wants the relationship like the ones she's seen with the Wests and their other friends.
Simon has his own brand of kink that not many submissives can handle, so he prefers to avoid anything approaching a committed relationship. He is a sexy alpha and Dominant with a commanding presence. He also spends time trying to help people who are new to the lifestyle become acclimated.
It may have been two years since Simon ended their relationship, but neither of them have really moved on. So when Lynne sees a chance to reconnect with him through online message boards, she jumps at it. They quickly bond and develop a connection…the only problem is that Simon has no idea that he's reconnecting with Lynne.
"I said, what's it to you? You made the assumption I wasn't a submissive. Well, guess what. You were wrong. And that means if I have to find someone else to give me what I need, it's none of your business."
"I know. I'm sorry. It's just, I wasn't expecting that."
Lynne has really grown since being at least around others who are firmly entrenched in the BDSM world. She's more confident, a little sassy, and more willing to ask for what she wants. Lynne and Simon have great chemistry and are well suited to each other's needs. Simon is protective and supportive while they challenge each other.
"I get it now. You're a sadist. You get some perverse pleasure from repeatedly stepping on me."
He gave a short laugh. "Good one. But unfortunately, no. I'm just really bad at dancing, and believe me, stepping on toes is not my kind of kink."
The Flirtation is scorching hot. Tara Sue Me immediately pulled me into this surprising and sensuous second chance romance. Ms. Sue Me continues to develop unique and engaging characters within the Submissive world that keep me coming back for more. The Flirtation can easily be read as a standalone in the Submissive series. Fans of J. Kenner, Sawyer Bennett, and Roni Loren will enjoy The Flirtation.
Book Info:

Publication:  August 8th 2017 | Berkley Books | Submissive #10
New York Times bestselling author Tara Sue Me is back with a scorching new romance–tenth in the Submissive series.
Lynne has not wanted for anything since she began working as Nathaniel and Abby's nanny–until the night they invite her to a group BDSM meeting. The abrupt breakup she had with her last Dom made her turn her back on the lifestyle, but now she's ready to dive back in. When she starts chatting on online BDSM message boards, she's shocked to discover Simon, her former Dom, is a frequent poster–and even more shocked at herself when she creates a secret identity and strikes up a conversation.
After messaging with a mysterious submissive online, Simon forms an immediate connection. Lynne and Simon's D/s relationship grows in intensity, but can their relationship survive after the truth is exposed, and Lynne's identity is laid bare?
INCLUDES A BONUS NOVELLA