In The Tycoon's Marriage Deal by Melanie Milburne, Blake McClelland is determined to buy back his family home, the one place his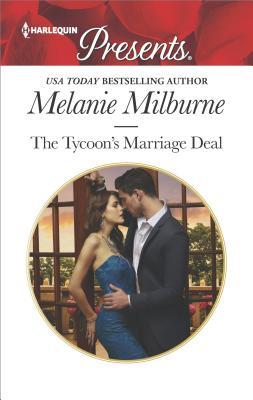 dad was truly happy. But the only way he can accomplish such a task is to get bakery owner Matilda 'Tillie' Toppington on side, not only because she has an in when it comes to the owner of Blake's old family home, but because she needs him if she's to keep the bakery she owns afloat. It's the perfect arrangement until Matilda begins to realize the depth of her feelings towards Blake. Will he break her heart, or will Blake realize that he needs Matilda in his life just as much as she needs him in hers?
Tillie let out a gust of a breath. "He wants to settle all of my debts in exchange for me pretending to be his fiancé for a month."
"You're right. I don't believe you."
"He's the most arrogant man I've ever met," Tillie said. "The hide of him marching in here and expecting me to say yes to such a ridiculous farce. Who would believe it anyway? Me engaged to someone like him?"
What a compelling and fast-paced read Ms. Milburne has penned in this story, which encompasses the fake relationship and opposite attract tropes and is a book I could not put down. Not only because of the wonderful main characters that had me smiling at their interactions, as the heroine isn't afraid to stand up for herself when it comes to facing the confident and cocky hero; but because of the riveting dialogue that had me wanting to discover whether the heroine would agree to the hero's proposition. She does need help to keep her bakery afloat. The way this story started had me liking this couple immediately, as Blake isn't afraid of ticking the heroine off when it comes to his proposition to get her to realize that she needs him just as much as he needs her. Will the heroine agree to Blake's plan?
"How did you explain our relationship?"
Tillie loaded her voice with I've-got-you-now. "I told him you came into the shop and fell in love with me at first sight."
His laugh made something in her stomach tickle. "Don't you mean love at first bite? One taste of your chocolate eclairs and I was hooked."
Tillie was annoyed he found this so amusing. That he found her so amusing. She stabbed a finger at his chest. "This whole flipping fiancé farce is all your fault."
The dialogue was a wonderful combination of intense moments and teasing banter that made this story a total page turner, as the heroine really surprised me with the way she decides whether she'll help the hero. What will the hero think when he discovers her answer to his proposal and how she took matters into her own hands in revealing their relationship? Moreover, the main characters were fantastic and had me hooked with their back stories. The heroine is quite innocent when it comes to men and having been hurt by her ex-fiance, it's hard for her to trust. Will Blake win her over and show her that second chances are worth taking? She's also quite strong when it comes to going after what she wants and I liked how determined she was to help the hero, even though it's likely he'll hurt her because he doesn't do love. While the hero, he's confident, hard-working and I liked how determined he was to get what he wants. Will Tillie give Blake what he wants? I also liked how the hero teases the heroine, as she needs to have a little fun in her life after what her ex did. Yet, what I liked most about the hero is what a great son he is and that he was willing to do anything to get his family's home back for his dad. Will he be able to achieve his goal?
"I've wanted you since the first day you served me in the shop."
Tillie pressed another kiss to his mouth. "Why? Because of my chocolate eclairs?"
He smiled against her mouth. "That and other things."
She eased back to look up at him. "What other things?"
He sent her a lazy fingertip over the shape of her eyebrows. "When you handed me my change, I knew we would be dynamite together."
Overall, Ms. Milburne has penned a wonderful and sizzling read in this book where the chemistry between this couple was strong; the romance shines on the pages with the way Blake makes sure that Tillie understands how much he wants her; and the ending had me thrilled by Blake's determination to win Tillie back after things go awry between them. Then again, the hero is lucky he has a loyal friend in the dog Tillie is caring for. However, it was the epilogue that wrapped this story up nicely, as Tillie has done well for herself in both her professional and personal life, especially when it comes to the surprise she reveals to the elderly gentleman that she's close with. I would recommend The Tycoon's Marriage Deal by Melanie Milburne, if you enjoy the fake relationship trope, the opposites attract trope, or books by authors Penny Jordan, Annie West, Dani Collins and Carole Mortimer.
Book Info:

Publication: September 19th, 2017 | Harlequin Presents |
A virgin's passionate awakening
Ruthless playboy Blake McClelland dominates in the boardroom and commands in the bedroom. So when he's required to produce a fiancee in order to clinch the most important deal of his life, his solution is as coldhearted as Blake himself–he'll choose a woman innocent enough to convince the world he's a reformed man!
After being jilted at the altar, shy bakery owner Matilda Toppington is in no hurry to wear another man's ring. Blake's cynical proposition is scandalously, shockingly outrageous–of course she should refuse! Unless Tillie dares surrender to the unknown pleasures his sinful gaze promises…