In The Ultimatum (The Guardian #1) by Karen Robards, Bianca St. Ives, aka The Guardian, may live in a dangerous world of criminals and deception,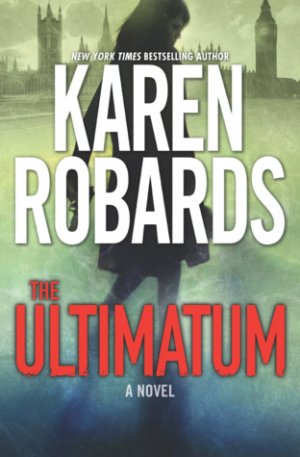 but she has the skills to handle any situation. Years of training and preparation have honed her into a woman who can talk, fight, and manipulate her way out of any problem. But when an assignment goes awry, killing her father–the man who literally taught her everything she knows–Bianca has to pick up the pieces and carry on the family business without him.
'She could still hear his voice lecturing in her head: If an operation goes south, it's every man for himself. Your job is to get the hell out.
That was what she'd done, but she was still paying the price in grief, regret…'
As government officials search the globe to see if Richard, known as The Traveler, is still alive or really died in a tragic attack, Bianca tries to remain out of their sight. She's not ready to let herself hope her father might not be dead. In his stead, she must decide if one more heist, that may or may not be a trap, is worth the risk. Especially when Bianca knows she has a very sexy but very dangerous man who is on to her deceptive ways. With a little help from her friend Doc and a lot of research, she also begins to piece together the truth about her father and her past. And what she finds shatters her entire world.
"Not even going to try to lie your way out of this?"
"Why should I?"
"To save your beautiful ass?"
"Believe me, it's not *my* beautiful ass that needs saving."
His eyes widened in surprise, and then to her annoyance he looked amused.
What a thrilling story! The Ultimatum was all non-stop action as one woman's past began to unravel and everything she thought she knew came into question.
'Mentor, teacher, taskmaster. Ruthless disciplinarian. Despot. Her constant in an uncertain world. Con man. Thief. Dad.'
Karen Robards is at the top of her game with this new series. The only way I can describe the level of subterfuge and action in this novel is to compare it to a female James Bond meets the Italian Job with a little Mission Impossible thrown in (for heist/action flick fans). Our heroine Bianca had all the cool gizmos, gadgets, and tools of the trade you'd expect, all while switching identities with the greatest of ease. We were kind of dropped right into the action at the start of this story so it took me a short while to acclimate myself to what was going on, but once I got my bearings things fell into place and it was a crazy fun adventure.
In addition to the exciting robbery scenes and Bianca's scuffles with a certain handsome man out to stop her, there was a nice subtle current of humor Robards added in. And I loved it. Bianca's friends were a hoot, the conversations they had made me chuckle, and even the fake names they used were enough to make me smile. I found it really heartwarming as well that Bianca, even though she was a highly trained thief, was a good person overall. She cared for her friends and collected "strays", giving them jobs and places to stay. And she didn't want to hurt anyone without cause or even steal from someone who had no other resources. So in my eyes, Bianca and her cohorts weren't the bad guys but instead had a Robin Hood type of vibe to their actions.
What a tangled web The Ultimatum turned out to be. And with the shocking ending, both in the details we found out *and* the heart-pounding final scene (which was a bit of a cliffhanger) I have a feeling book two will take things to an even higher level.
Book Info:

Publication: Published June 13th 2017 | MIRA | The Guardian #1
Thief. Manipulator. Con artist. Call it what you will – Bianca St. Ives is the best in the business.
Growing up, Bianca St. Ives knew she was different from all her friends. Instead of playing hopscotch or combing her dolls' hair, she studied martial arts with sensei masters and dismantled explosives with special-ops retirees. Her father prepped her well to carry on the family business. Now a striking beauty with fierce skills, the prodigy has surpassed the master.
She's known as the Guardian. Running a multinational firm with her father, she makes a living swindling con men out of money they stole – and she's damn good at it. She does things on her own terms. But her latest gig had a little hiccup – if you count two hundred million dollars and top secret government documents going missing as little. Her father also died on the mission. The thing is, the US government doesn't believe he's really dead. They'll stop at nothing to capture Richard St. Ives, a high-value target and someone who has been on most-wanted lists all over the world for over two decades, and they mean to use Bianca as bait. With only a fellow criminal for backup and her life on the line, it's up to Bianca to uncover the terrifying truth behind what really happened – and set it right, before it's too late.