Welcome Home Katie Gallagher by Seana Kelly: After the end of a miserable ten year marriage, Katie Gallagher returns to her home town of Bar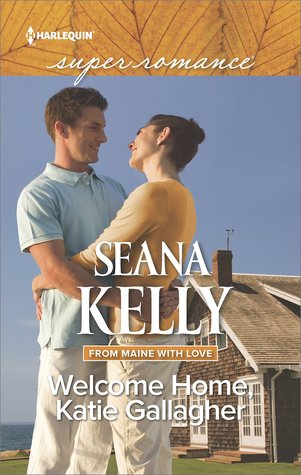 Harbor, Maine with only her Newfoundland, Chaucer, in tow. Her intention is to stay at the house her grandmother left her, but when she arrives, she finds it overrun with wild animals.
Police Chief Aiden Cavanaugh, who had a crush on Katie when she was younger, is surprised to find her sleeping in her car. When he finds out the reason, he tries not to feel sorry for her. He had been in love once and when the woman walked away right before their wedding, he decided never again. He refuses to let Katie in, but the more time he spends with her, the more he can't help lowering his guard.
I really liked Katie. Even though her ex-husband cancelled her credit cards and cleaned out their bank account, she never gave up. She pushed through, doing what she had to do to survive, including working in a hot dog truck for seven dollars an hour. Her dream was to open up a breakfast restaurant in town, and despite not having any money, she never gave up on that, either. She's sarcastic and witty, and highly entertaining. I loved her close relationship with Chaucer and how protective he was of her, always alerting her to when people were nearby.
For the most part I liked Aiden, until he does something that hurts Katie in order to protect himself. I understood his need to protect his heart, but on the same token Katie had been hurt, too, yet she was willing to give another relationship a chance. Even his grandfather was frustrated with him.
"I'm done pussyfooting around this. Every time I try to bring it up, you change the subject or leave the room. No more, Aiden." He paused to gather his thoughts, and I wished I hadn't offered to drive him home. "You've changed. You're harder, meaner. You told a tiny woman, Nellie's granddaughter, to chop her own wood. It's not like you, and I don't like it. Son, I know Alice's leaving was difficult, but isn't it better that she did it before you were married?"
The book is told in both Katie's and Aiden's point of view. I enjoyed it, as readers get to see the inner thoughts and struggles both characters have.
The secondary characters were well-written, and I hope we get a future book about Bear. He started off wanting to date her, but then continued to flirt with her mainly to get Aiden to admit he had feelings for her. The interactions between Bear and Katie were amusing.
As we walked through the kitchen, I detoured by the stove. It was a gorgeous Viking industrial-grade range. "Ooh, so pretty," I whispered. I ran my fingers lightly over the knobs, wishing I could cook on a range like this.
"Should I leave you two alone?"
I turned, finding Bear watching me, his eyes bright with humor. "Um, yeah, if you could, that would be great. I have knobs to turn, buttons to push, maybe even some cavities to explore."
Bear choked out a laugh. "I like you, Kate, and your little dog, too."
Welcome Home, Katie Gallagher is a sweet story about returning home and getting a second chance to do things right. This is the author's debut book, but you would never tell based on how well it was written. Filled with heart, healing, and humor, this should be added to everyone's must read list.
Book Info:

Publication: July 1, 2017 | Harlequin Superromance | From Maine with Love #1
A clean slate is exactly what Katie Gallagher needs, and Bar Harbor, Maine, is the best place to get it. Except the cottage her grandmother left her is overrun with woodland creatures, and the police chief, Aiden Cavanaugh, seems determined to arrest her! Katie had no idea she'd broken his heart fifteen years ago…