In The Unlikely Master Genius (St. Brendan #1) by Carla Kelly, Able Six has come a long way since his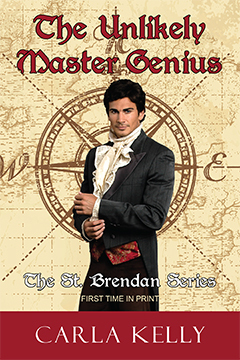 troublesome days in a workhouse in Scotland with all the other orphans. Once he realized what his astounding intelligence could mean for him, he ran off and joined the ships in the Royal Navy, working his way up to Sailing Master. With a treaty holding tenuously for the moment, Able has found himself a woman while on leave. Meridee Bonfort must be an angel in disguise to not only agree to marry him, but to follow him as he takes on a job teaching at St. Brendan's. A school for workhouse boys like he once was. Able sets out to prove that he can teach the boys everything they need to become successful in the Navy, while his sweet Meridee shows them the compassion they've never received before in their young lives.
'He could actually wed Meridee Bonfort and teach boys much like himself to become useful masters in His Majesty's Royal Navy. What more could a man wish?'
Meridee honestly wasn't quite aware of what she was getting herself into by marrying Able, seeing close up the amazing way his brain works and the toll it takes on him physically. But she would follow the man anywhere. He alone becomes her protector and her greatest love–or so she thinks until Meridee meets the youngsters at St. Brendan. She suddenly realizes she has the opportunity to make a true difference in their lives. It may be difficult to hear of the atrocities the boys faced while they were in the workhouse, and equally as tough to get through to them and gain their trust. But surely Meridee and Able can share their knowledge and love with the former workhouse "rats" before they embark on their careers in the Navy?
"…If you peel away the sheer genius, talent, and charm of your remarkable husband, he still has his humanity."
"Not even the workhouse could destroy that, but it tried," she said.
A wonderful start to a brand new series by Carla Kelly, The Unlikely Master Genius was everything I love about her writing: a pleasing mix of humor and warmth, lovely historical details, and characters who seem so real, they will leap off the pages and charm you right away.
"Will someone care about us?"
"Nick, is it?" Able asked, remembering the boy with no last name on the list.
"Aye, Master Six."
"Someone cares about you right now," he said quietly. "I do."
Carla Kelly is one of my go-to authors, especially for her historical romances. The stories are always perfectly paced and show off her knack for creating plots that are genuinely interesting. In this case we had a Sailing Master from the Royal Navy who was a genius with a golden heart. I adored everything about Able Six. His quirks were part of his appeal, certainly part of what drew his new bride Meridee Bonfort to him. Theirs was a sweet and tender yet surprisingly passionate romance that will have readers swooning. I loved that Meridee could hold her own verbally and mentally against her new husband, a man whose intellect was staggering. But it was Able and Meridee's love and compassion for those around them that I think will ultimately wow readers.
I'll be honest in that there were some tough scenes and passages to get through as we learned not only of Able's horrific life as an orphan, but also the lives of the young lads at St. Brendan. I wept a few tears along the way but Able's quick wit and Meridee's scolding quickly put a smile back on my face. A few of other secondary characters had key roles in the story, some of their backgrounds equally grim, but they all added a depth to Kelly's storytelling that made it a more well-rounded novel overall.
The Unlikely Master Genius was a Regency romance like no other. Packed so full of emotions that it was bursting at the seams, this will be one book that I know I will read over and over again, growing to love it even more with each revisit.
Book Info:

Publication: Published May 1st 2018 | Camel Press | St. Brendan #1
Sailing Master Able Six, Royal Navy, is a man like no other. To call him a mere polymath is to sell him short. Someone with his extraordinary gifts should rise to the top, unless it is the 1800s, where pedigree and money govern Regency society, as sure as Napoleon seeks world domination. A bastard raised in a Scottish workhouse with nothing in his favor except his amazing mind, Able must navigate life ashore on half-pay during the uneasy Truce of Amiens, and find a way to provide for his charming bride Meridee Bonfort, a gentlewoman to be sure, but lacking a dowry.
Assisted by two sea captains acquainted with his startling abilities, Able finds himself teaching mathematics and seamanship at St. Brendan the Navigator School, which is itself an experiment, taking boys like Able from workhouses and training them to serve the fleet in wartime. Meridee has agreed to invite four lads who need extra attention into their home in raffish, unsavory Portsmouth. Calling themselves the Gunwharf Rats, these St. Brendan lads show promise in an unpromising world. Can a sailing master-turned-teacher uncover their potential? Can Meridee find a way to nurture young hearts bruised too soon by life? What will happen when war breaks out again? And what is it about Able Six, the unlikely master genius?
Volume One: The St. Brendan Series.