In Sheikh's Baby of Revenge (Bound to the Desert King #1) by Tara Pammi, Sheikh Adir is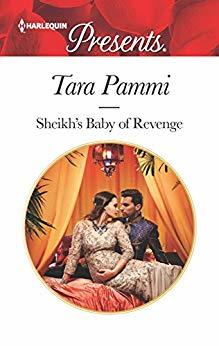 determined to get revenge against those that want to keep his heritage a secret and safe from scandal. So, what a better way to do it than seduce his brother's fiance. However, when he discovers she's pregnant, Adir knows it's not going to be easy to win her trust, especially when she discovers his motives for wanting her. Will Adir be able to win Amira's heart or will she walk away from her chance at happy ever after?
"As little experience as I have with it, that is not love," she said. "That is selfish…indulgence."
"For someone so young and untested and so innocent…" his knuckles ran down her cheeks, sending a thread of warmth through her "…you have very decided opinions."
"I just know there are some lines I wouldn't cross. Things that I could never live with. And since you insist on this wedding between us, it would be nice if you knew that, too."
"No, you would not be a wife who would cheat on me. You might, however, twist a knife in my gut if I did."
This is an interesting and emotionally-charged revenge trope encompassing story that had me hooked from the very beginning because of the main characters heartbreaking back stories that have made them feel so alone all their lives. Then again, who could blame Adir for wanting revenge against a family that isn't willing to claim him as theirs? However, it was from the moment the hero and heroine come face-to-face for the first time where things really take off, as the heroine makes a decision for herself; a decision that has consequences, but a decision nonetheless since her father has always been in charge of what her future holds.
With the dialogue, it was engaging due to the main characters back stories and it's understandable why the hero wants revenge with the way his siblings treat him in the beginning. Moreover, the hero is confident, determined, stubborn and I liked that he doesn't give up on what he wants, even though it could cost him everything he's building with the heroine. Is the hero too obsessed with the past to be able to move forward? While the heroine, she's resilient, courageous and I liked how determined she is to fight for her independence, which is proven by the decisions she makes that she knows will make her father mad but will make her happy in the future. How could she possibly marry someone when she doesn't love them? I also liked how determined she is to fight for her future with the hero, even though it seems impossible the more I got to know about his back story and how affected he is by it. Yet, what I liked most of all about the heroine was what happens to her when she can't get her emotions under control. Her brilliance flares to life, which is nothing to be ashamed of like some people make her believe.
"I state facts and run my mouth off endlessly when I'm anxious or agitated or upset or sad or angry. My father thinks I do it to ignore his dictates and to insult him."
"And when you're happy?"
She smiled. "You're very smart, aren't you? You know, people think intelligence is…" She cleared her throat and she blushed fiercely again. "I do it when I'm happy, too, yes. Pretty much all the time, now that you make me think about it."
Overall, Ms. Pammi has delivered a really good read in this story where the connection between these two grows stronger and stronger the more they interact; the romance was nicely-detailed, as the heroine does what's right for her for once instead of trying to continue to gain her father's love and approval; and the ending had me loving the hero's determination to win back the heroine after how things go awry in their relationship. Will the hero be able to let the past go? I would recommend Sheikh's Baby of Revenge by Tara Pammi, if you enjoy revenge trope, the enemy to lovers trope or books by authors Lynne Graham, Michelle Smart, Chantelle Shaw and Cathy Williams.

Book Info:

Publication: August 1st, 2018 | Harlequin Presents | Bound to the Desert King #1
He ruthlessly seduced her…
Now he'll steal her for his heir!
Seeking revenge for his royal family's rejection, warrior sheikh Adir seduces his brother's innocent fiancée! But when he returns to steal Amira from the altar, he discovers their illicit encounter left her pregnant. Secluded in the desert, longing soon consumes them. But Adir's baby must be legitimate—and he'll claim his with a vow!