In Giving up the Boss by Victoria Davies, Lori has finally worked up the courage to quit her job. However,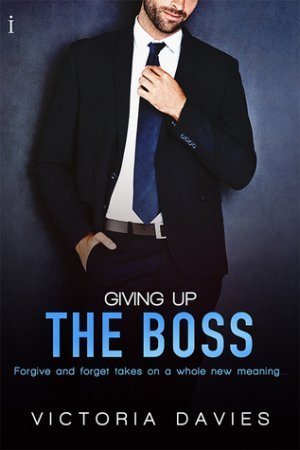 not long after she tells her boss, Jackson Sinclair, there's an accident resulting in Jackson losing his memory. In order to help make sure the company keeps running smoothly, Lori decides to stay and help. Yet, the more time she spends with Jackson, the harder she finds it to deny the strong feelings she has for him, especially when he's treating her as though she's the most precious woman in the world to him. Will Lori and Jackson fight for their happy ever after or will Lori walk away before Jackson has the chance to break her heart?
"Thanks," she said dully.
"How this plays out, I'll make sure you get an excellent parachute at the end of it."
"Throw money at the problem to make it go away. You SInclairs are a prize."
"That was snippy. Coming out of your shell, Ms. Professional-Assistant?"
What do readers get with a story that encompasses a sexy billionaire hero that has amnesia after an accident, a heroine that feels guilt over what happened; and riveting dialogue that had me enjoying the growing relationship between Jackson and Lori? Well, in my opinion, readers get a very engaging and interesting read where I couldn't help but sympathize with the heroine, as she feels guilty over what happened to Jackson and is determined to make things right. Will Lori be able to help Jackson and his company, especially with what's going on?
As for the dialogue, it was intense due to the main characters back stories, as the hero has done everything he can in taking the reins of the family company in order to keep it going. Will the hero and his brother be able to come out on top when it comes to the troubles the company faces? Will the heroine be able to help the hero when it comes to keeping what happened to him a secret? Moreover, the heroine is strong and brave by helping the hero after what happens, especially since she has strong feelings for Jackson, which makes it hard for her to be around him when it's palpable to her he doesn't feel the same way. I also liked the heroine's altruism, even if it is out of guilt to take care of Jackson. While the hero, I liked his confidence, his charm and his determination to win the heroine over because she's the only person that feels remotely familiar to him. Is it because he has feelings for her too? However, there are moments where I couldn't help but sympathize with the hero because of what's happened to him. Will he recover his memories?
He shrugged. "I might never remember who I was. Some people don't."
"That won't be you."
"Not even my billions can buy a working brain."
Unable to help herself, she cupped his face with her free hand. "Your brain is incredible, bruised or not. Just like you are."
He leaned into her touch. "Not many women would say that."
"To a gorgeous man as rich as Midas? I really bet they would."
Overall, Ms. Davies has delivered a really good read in this book where the chemistry between this couple gets stronger, as the heroine does her best to help the hero while keeping her feelings for him at bay; the romance was delightful and had me loving that these two took a chance on each other because Lori is so good for Jackson; and the ending had me worried for this couple's happy ever after because of what happens, but left me completely satisfied with the way things work out for these two. Yet, it was the epilogue that wrapped this story up nicely because of the surprise one of the main characters has for the other. Since don't Jackson and Lori deserve time off after everything they've been through? I would recommend Giving up the Boss by Victoria Davies, if you enjoy the boss-employee romance trope, the opposites attract trope or books by authors Hayson Manning, Miranda Liasson, Alexia Adams and Susan Meier.

Book Info:

Publication: July 9th, 2018 | Entangled: Indulgence |
Executive assistant Lori has finally said those three little words to her boss, Jackson Sinclair, that have haunted her for months–– Goodbye, I quit. Yep. That happened. Then she sort of ran over him. It was an accident. No. Really. It was. Now he can't remember anything––and it's up to her to keep his billion-dollar corporation running until he gets his memory back.
Billionaire Jackson Sinclair wakes up in a hospital to a life he can't remember. The only person who feels familiar is Lori. The more he learns about his past, though, the more it disturbs him. He was kind of cold, and he can't imagine why the lovely Lori put up with him. And she is lovely, as in, he can't stop thinking about her. But he has a company to save, and there's no time for that sort thing. Especially when it seems like his assistant is hiding something from him.
As his condition shows no signs of healing, Lori can't help wonder what's best, telling the truth about his accident and losing the man of her dreams or keeping quiet and living the best lie of her life.