The Valentine Quest by Melissa McClone: Nevada came to Marietta, Montana for a little peace and quiet as she visited her sister and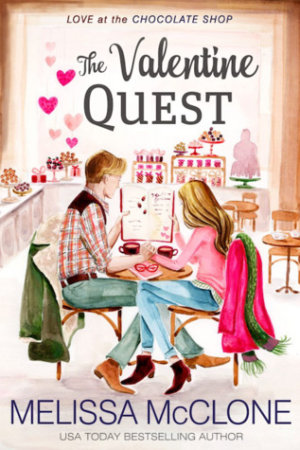 worked on her dissertation. The last thing she wants is anything to do with love, let alone the town's Valentine quest, hosted by the chocolate shop her sister works in. But when struck with the idea of giving her always there for her brother the prize of a luxury tropical vacation, she signs herself up.
Ever since his bull-riding injury forced him to quit the rodeo, Dustin has been missing something in his life, and he views the Valentine quest as a chance to prove his injury doesn't define what he's capable of. To ensure his win though, he figures why not team up with the oddly cute and nerdy Nevada, at least until the final task when they'll compete against one another.
But what starts as a strategic pact becomes much more as Nevada and Dustin share more with each other than they have with anyone else. Although they couldn't be more opposite, attraction flies high between the two. But when Dustin proves Nevada's theory that love doesn't exist in his desire to win, a happily ever after might not be at the end of their quest after all.
"Good move not to get caught up in the rah-rah atmosphere," Dustin said in a quiet voice. "We can't allow ourselves to be distracted."
Then she'd better not stare into his blue eyes. Those distracted her, but he was correct.
I really liked the idea of The Valentine Quest. It's cute and fun, and really just perfect for a Valentine's Day romance. However, I found both Dustin and especially Nevada totally unlikable. The tone of the story overall was a little insufferable, filled with arrogance and superiority-complexes everywhere. How Nevada spoke about people who were apparent geniuses such as herself just felt offensive and so rude.
Both their backstories gave a lot of good material that should have made for an interesting and involved romance, but it just fell apart because I didn't want to know these characters. And so often it felt like they couldn't help but constantly victimize themselves. I never felt they overcame their issues, they more seemed to wallow in them.
I wanted to love this story because it definitely held promise. I just feel the follow-through fell flat. The fifth in a series, The Valentine Quest can be read as a standalone.

Book Info:

Publication: February 2, 2017 | Tule | Love at the Chocolate Shop #5
Keep your competition close…and your heart even closer.
When Nevada Parker travels to Marietta, Montana, she anticipates enough peace and quiet to finish her PhD dissertation. Cupidville turns out to be anything but quiet. In fact, it looks like Valentine's Day—her least favorite holiday—exploded all over the small town.
Among the sea of red hearts, "Be Mine" signs, and pink, pink, pink, Nevada spots a flyer for a multi-day race called The Valentine Quest. The grand prize—a luxury tropical vacation—would be the perfect welcome-home gift for her brother who's leaving the military.
Dustin Decker sure could use a break from giving city slickers sleigh rides—and from the now ex-girlfriend who issued an ultimatum. Even with a bum knee from his bull riding days, the race's grand prize is as good as his—until he realizes he needs a partner for some of the more complicated tasks.
He makes a strategic pact with the prim, bookish Nevada. But with a kiss, their unlikely alliance turns into something more…and soon racing isn't the only thing on their minds. As the finish line nears, they must decide if the grand prize is worth more than what they've found together…or if one of them will walk away empty handed—and broken-hearted.