In The Vanishing (Fogg Lake #1) by Jayne Ann Krentz, Growing up in a tiny mountainous town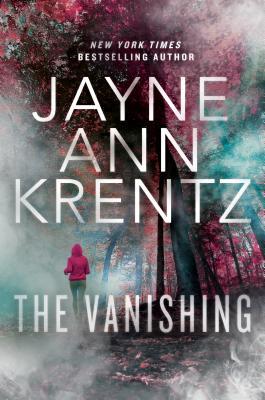 like Fogg Lake with a reputation for the residents having special abilities, Catalina Lark and Olivia LeClair learned to give the outward appearance of being normal. Locals blame it on the explosion that happened a few decades ago in an underground cave system. A place with so much strange energy flowing in it that most folks stayed away from it. But Cat and Olivia foolishly went down there fifteen years ago. After witnessing a murder and hiding from the killer in the caves, they swore they would never step foot in them again.
'She got the impression that he just might know exactly how much effort it took to remain anchored to reality when you found yourself trying to interpret the world through a storm of visions.'
But when Olivia goes missing years later, Cat knows her investigative partner and best friend has been taken. And that it likely has something to do with the murder they witnessed years ago. Her suspicions are proved right when Slater Arganbright, part of the Foundation, who oversees those with paranormal abilities, steps in to help find Olivia. What they uncover is a tangled web of lies, secrets, and enough danger to take them both out. And as far as Slater and Cat are concerned, that's just not going to happen. Not when they are so close to figuring out where Olivia is, finding the truth behind the Fogg Lake explosion, and seeing where the intense bond they've formed takes them in the future.
"I do want to kiss you, but not because I'm grateful."
"Why, then?"
…"I would like very much to kiss you because you are so damn hot that you could single-handedly set this house on fire, to say nothing of setting me on fire."
The Vanishing was an intriguing romantic suspense which introduced us to a new trilogy from Jayne Ann Krentz that promises to be exciting and unique.
'A battered sign came up in the headlights of the SUV.
Welcome to Fogg Lake.
Nothing to See Here.'
You've gotta love Jayne Ann Krentz's imagination. The Vanishing kept me on my toes with the cool touches of paranormal or "woo-woo" as the characters called it, the mystery surrounding the suspicious explosion decades ago in Fogg Lake, bad guys double-crossing others to get artifacts from the caves. And on top of it we had a passionate romance that grew and flourished during Cat and Slater's dangerous investigation. Oh…and a kidnapping. Whew!! So much going on, but Krentz did a great job of keeping a nice flow to the story that made it easy to follow.
All of the people we met–and there were multiple POVs–were a bit offbeat but played out their roles in the plot perfectly. Of course most of this was from Slater and Cat's perspectives. It was fun to watch them fall for each other, to figure out their connection and even what each other's abilities were. I loved that Cat wasn't afraid of Slater even though he'd recently been through a rough time with his paranormal senses. They understood each other on a level that helped their attraction grow very quickly, but it still seemed plausible. Slater and Cat also made a great team while trying to find Olivia. And the setup at the very end made it seem like we haven't seen the last of Cat, Slater, or the weirdness surrounding Fogg Lake, with lots of interesting stuff coming up.
Smartly written with witty, snappy dialogue and an array of mysterious characters, The Vanishing was fast paced, keeping this reader on edge until the final page.
Book Info:

Publication: January 7th 2020 | Berkley | Fogg Lake #1
From New York Times bestselling author Jayne Ann Krentz comes a new gripping romantic suspense trilogy fraught with danger and enigma.
Forty years ago in the small town of Fogg Lake, "The Incident" occurred: an explosion in the cave system that released unknown gases, causing peculiar effects on its residents, such as strange visions and ominous voices. Not wanting the government to get involved, they chalked it up to the hallucinogenic effects of mushrooms. Little did they know these effects would linger through the generations….
Residents Catalina Lark and Olivia Dayton have been best friends for years and own an investigation firm together, using what they call the "other sight" to help with their business. When Olivia goes missing, Cat frantically begins the search for her alone when the town does nothing about it. When scientist Slate Trevelyan shows up, she has no choice but to accept his help even though there's something about him she just can't trust. The duo discovers someone is hunting the two witnesses of a murder in Fogg Lake fourteen years ago—the very one Cat and Olivia witnessed as teens, one that they couldn't prove happened. Cat and Slate's search for Olivia takes them down a rabbit hole that is far more dangerous and mysterious than they ever expected, and with a killer in their midst, neither of them can foresee who will come out alive.