In The Wedding Charade by Melissa McClone, Claire moved to San Francisco 3 years ago to get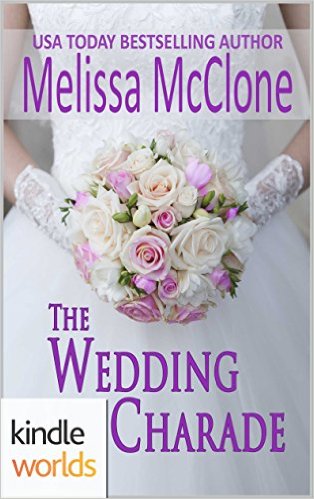 away from her twin sister Cate and her boyfriend Brady…the same man that Claire has loved for a long time but who will never be hers. Brady and Cate, both actors, seem perfect together. Until Brady shows up out of the blue on Claire's doorstep one night with an outrageous proposal to help save her sister's career. Does it really need saving though or is it all a publicity ploy? Either way, Claire finds herself involved in something that just keeps snowballing into more than she imagined… and mostly worse than she imagined. At the same time, her feelings for Brady are as strong as ever. But how does he feel? Is there any chance in this game they are playing for true love? Or will Claire's heart and hopes be broken again as Cate and Brady move on?
I liked Claire. She's trying to do the right thing and help her sister…even if it seems like it can only lead to hurt for Claire. I liked that she'd tried to distance herself from a man she really cared about because he was with her sister, even if she didn't stop craving him. She never acted on her feelings or let them be known. I felt for her because I got the idea she felt like the ugly duckling compared to her sister. Family bonds are strong though, and she steps up into a bizarre situation to try to help her sister. Claire certainly does not have blinders on about her sister, and there is a lot she doesn't know. When Brady and his charade of a proposal give her pause, she finds out more. Brady has always felt a close attachment to Claire, and their new situation makes him see her in a whole new light. It even makes him want what he's not sure he can have. Watching these two navigate what soon becomes an almost impossible situation where only Claire can get hurt is touching and interesting. The family dynamics in The Wedding Charade with Claire's family are very dramatic, and at times quite maddening!
If I could put aside reality and the fact that Claire and Brady are even pretending to be together after he's been with her sister (not my favorite kind of plot), I can say this is an enjoyable read. Well paced and easy to read, The Wedding Charade by Melissa McClone shows us that dreams maybe can come true, but the road to these dreams is not always magical, instead full of challenges and trials.
I'd recommend The Wedding Charade by Melissa McClone to romance readers looking for a tension filled plot! Part of the Kindle Worlds Four Weddings and a Fiasco, The Wedding Charade can easily be read as a stand alone.

Book Info:

Publication: May 2nd 2016 | Kindle Worlds | Four Weddings and a Fiasco (Kindle Worlds Novella)
Growing up in her twin sister's shadow, Claire O'Ryan has made a life for herself away from family and the Hollywood limelight. But when her sister's lies start spinning out of control and she finds herself in trouble, Claire and her former crush are forced to help out.
A-list actor Brady Simms enjoys playing a good part and pretending to be engaged to his childhood best friend, Claire, sounds like an interesting role. Planning a fake wedding happens all too easily. Acting like he's madly in love with the quiet, sweet librarian feels all too right. And her kisses…all too perfect. Will a game of make-believe turn into a real-life happily ever after?