In Recipe for Redemption by Anna J. Stewart, Abby Manning is a lost cause when it comes to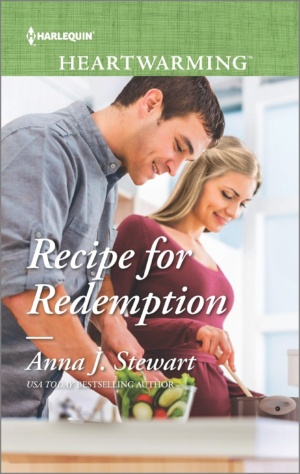 cooking. So, how is she supposed to win a cooking contest in hopes of saving the town's Inn – the only home her grandmother has ever known — when she constantly sets off the fire alarm? What she needs is a miracle, and it seems she finds one in Jason Corwin. But even though he's a celebrity chef, he hasn't been interested in getting back into the kitchen since the scandal that turned his life upside down.
"I know it sounds crazy." Abby went along with Lori's misconception. "The publicity could bring in a good chunk of business. And I figured Paige could give me cooking lessons."
"Um." The humor vanished from Lori's face. "Then you might want to decide now if you'd like to remain friends. That's not a great position to put someone in. It might make her an accessory when you torch the entire town."
What a heartwarming, fast-paced and entertaining read Ms. Stewart has penned that grabbed my attention from the very beginning and did not let go until I was at the end. As it encompasses a heroine that needs someone to teach her how to cook so she'll have a chance at winning a cooking contest, and a hero that needs someone to help him re-discover his love for cooking.
Playful banter between Jason and Abby had me smiling or laughing constantly, as Abby tends to call things as she sees them. However, it was also intense and emotional due to the main characters back stories, especially Jason's; the decision Abby has to make between winning and helping Jason; and what the hero endures from someone that wishes to see him completely ruined. The way the latter developed in the story had me cheering for the hero, as Jason finally learns the person responsible for creating the scandal.
I absolutely loved both the main characters, as well as the secondary ones. The locals are behind Abby every step of the way throughout the contest. She does the town proud and she definitely made the right decision when it came to choosing between winning and saving Jason, even if it did crush their relationship until the hero learned the truth about Abby's involvement. That it wasn't her fault, and she did her best to protect him.
Abby is feisty, brave and tenacious. She's definitely a winner in the eyes of the townspeople, whether she ended up winning or losing. She's also really good for Jason by helping him to realize that he can't keep living in the past. That he needs to confront what happened to him with the scandal that almost cost him his career. To make him realize that he has a gift for cooking, and he shouldn't let anyone keep him away from the dreams he and his late brother had. Yet, what I liked most about her was how much she loved her grandmother, even though she didn't feel right about the secret she was keeping in regards to the elderly woman's health.
="You mean I'll get an even closer look at arrogant, egotistical, judgmental Jason Corwin?" She fluttered her lashes at him as if he were a teenage heartthrob. "Yay. He's so dreamy."
"He's also a class-A jerk with anti-social tendencies." He couldn't help it. Her teasing and calling things as she saw them amused him. How could anyone take himself seriously when she was around?=
While Jason, he's been through a lot and needs time away from the spotlight to find what he wants in life again. Will he ever cook for others again? Will he finally defend himself against the scandal that has disrupted his career and any future dreams he had for his life? However, what I liked so much about the hero was how Abby helped him to unwind. That he joked around with Abby, even though his life – as of late – hasn't left a lot of time for him to have fun.
Overall, Ms. Stewart has penned a really good stand-alone novel filled with sweet romance and enticing characters that have left me wanting to dive into more books encompassing the town of Butterfly Harbor. The ending wrapped this story up nicely, as Jason fights to claim back his grandfather's legacy before it's unsalvageable. There was nothing more satisfying than the hero standing up to the person responsible for the scandal that made him look like a cheat. Moreover, I liked how he surprised Abby with his plans since she tried to do what was best for him and things didn't work out quite how she thought they would. I would recommend Recipe for Redemption by Anna J. Stewart, if you enjoy the mysterious strangers trope, or feisty heroines that help the hero to bounce back from his current misfortunes.

Book Info:

Publication: June 1st, 2016 | Harlequin Heartwarming | Butterfly Harbor #2
From the frying pan…
Abby Manning has to take home first prize in an amateur cooking competition to save her town's landmark inn—and longtime home for her ailing grandmother. Too bad the Butterfly Harbor innkeeper is a complete disaster in the kitchen. Undeterred, Abby asks her latest guest to teach her the basics.
A family tragedy and ensuing scandal derailed Jason Corwin's high-profile career. But is the gifted celebrity chef going to let one mistake define the rest of his life? Add in a generous helping of mutual attraction and another burgeoning scandal, and it could be a recipe for star-crossed romance…or disaster, especially if a win for Abby costs Jason his professional future.