The Wedding Dare by Katherine Garbera: Quinn Murray has set up in Nantucket to film a destination wedding at the beach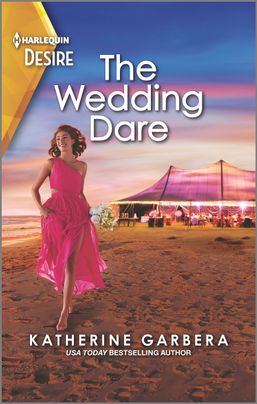 area. There is quite a crowd of family and friends gathered for her to handle and make sure everything goes off just right so the perfect wedding can be filmed.
Quinn hadn't counted on running into Logan Bisset, her ex. She has measured her few subsequent romantic partners against him. Maybe they can have a quick weekend fling and move on again. This doesn't work out too well when first one bombshell of a family secret is dropped and an even more shocking one soon after. They both have Logan questioning his whole life. He has become a very ambitious CEO at only 35, but the new revelations have made him angry at most of his family. Even the couple to be married, Adler and Nick are affected by all this family drama. Will the wedding be able to go forward and can Logan get past all his resentment? Will Quinn be able to get through to him and give him some new perspective on the whole crazy situation?
Although, The Wedding Dare is primarily a second chance romance, one of my favorite tropes, it's also a deep dive into family dynamics and how secrets and infidelities can work to cause horrible upheavals that are hard to get past. Only deep forgiveness and love can mend hearts and allow people move on rather than getting mired in pain and resentment.
Both Quinn and Logan come off as very guarded about getting close in the beginning. They have their own ambitions and dreams that are threatened by letting others break down their boundaries .
When I first started reading this novel I thought I was part way through a series, but The Wedding Dare is the first in a trilogy. I had a difficult time keeping the many characters straight. It didn't help that using non-traditional names for some of the female character was confusing at first. I know this has been a trend for a while after working with some three year olds in children's choir. Overall, this prolific, well known author has crafted a wonderful story with just the right mixture of salty language and spicy romance that readers have come to expect from the Desire line.
I will be interested to see if the next two books in this series give more back stories on some of the other secondary characters. This novel seemed to end on a bit of a cliffhanger, which is a good reason to keep reading for romance and mystery lovers.
Book Info:

Publication: February 22, 2022 | Harlequin Desire | Destination Wedding #1
A weekend fling takes these exes way out of their comfort zone in this Destination Wedding novel by USA TODAY bestselling author Katherine Garbera.
"I dare you…"
When exes reconnect at a weekend wedding getaway…it's game on.
For TV producer Quinn Murray, hooking up with her ex at a beach wedding spells trouble. But Logan Bisset is her weakness, and she's up for facing him again. She knows that for the hard-driving CEO, winning has always been everything. But when Logan's family secrets are exposed, Quinn is the only one he can turn to. Will she also be the one to convince the competitive bachelor that winning means nothing without daring to risk his heart?
From Harlequin Desire: A luxurious world of bold encounters and sizzling chemistry.
Love triumphs in this uplifting romance, part of the Destination Wedding series.
Book 1: The Wedding Dare
Book 2: The One from the Wedding
Book 3: Secrets of a Wedding Crasher (less)