Today, HJ is pleased to share with you

Elizabeth Everett's

new release: 

A Perfect Equation

How do you solve the Perfect Equation? Add one sharp-tongued mathematician to an aloof, handsome nobleman. Divide by conflicting loyalties and multiply by a daring group of women hell-bent on conducting their scientific experiments. The solution is a romance that will break every rule.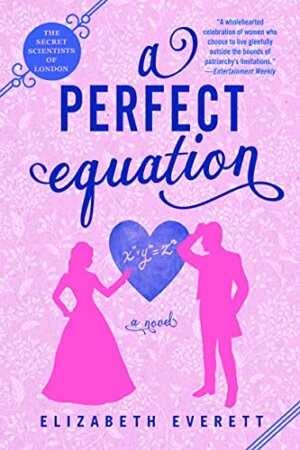 Six years ago, Letitia Fenley made a mistake, and she's lived with the consequences ever since. Readying herself to compete for the prestigious Rosewood Prize for Mathematics, she is suddenly asked to take on another responsibility—managing Athena's Retreat, a secret haven for England's women scientists. Having spent the last six years on her own, Letty doesn't want the offers of friendship from other club members and most certainly doesn't need help from the insufferably attractive Lord Greycliff.
Lord William Hughes, the Viscount Greycliff cannot afford to make any mistakes. His lifelong dream of becoming the director of a powerful clandestine agency is within his grasp. Tasked with helping Letty safeguard Athena's Retreat, Grey is positive that he can control the antics of the various scientists as well as manage the tiny mathematician—despite their historic animosity and simmering tension.
As Grey and Letty are forced to work together, their mutual dislike turns to admiration and eventually to something…magnetic. When faced with the possibility that Athena's Retreat will close forever, they must make a choice. Will Grey turn down a chance to change history, or can Letty get to the root of the problem and prove that love is the ultimate answer?
Enjoy an exclusive excerpt from A Perfect Equation 
"You call that a kiss?" His voice held no scorn or ridicule, only a hint of amusement.
Like the slow slide of a raindrop down the hollow of a leaf, his thumb traced the line of her cheekbone until it stopped at the corner of her mouth.
"I . . . What would you call it?" she stammered.
"Do you want to try again?" he whispered, lowering his head toward hers, his breath warming the tip nose.
Tiny tremors began low in as he settled his hand on the small of her back, nudging her forward. Even through the many layers of cloth, a jolt ran through her at the contact. Beneath his tan trousers, his legs might been carved of stone, muscled from years of riding and fencing.
"Yes," she faintly. "I mean, no. I mean . . ."
"Open," said.
Letty shook her head, confused, while his thumb brushed along the edge of her bottom lip. How could a gentle touch to the smallest part of her affect her entire body? The question fluttered through her mind. Perhaps a reaction of the nervous system to various stimuli . . . But the rest of the theory left her brain along with any other rational thought.
Because now, he'd taken away his thumb and set his beautiful mouth nearly against hers. Not touching, but nearly so. And for the second time he repeated his demand.
"Open to me, Letty."
She had lied. She was not a siren, not a seductress, not even much of a woman, and she didn't understand what he wanted.
So he demonstrated.
Tilting his head, he brushed his lips against hers in a motion both sweet and devilish at the same time. The tip of his tongue against the seam of her lips scorched her, liquified her barricades, leaving her vulnerable to him.
This was nothing like her idea of a kiss.
This was . . . bliss.
Her body took control from her fevered brain as it dawned on her what he wanted. He swallowed her sigh of capitulation as she opened her lips, gasping when he forced her mouth slipping his tongue inside. With swift, gentle strokes he licked contours of her mouth, stoking an unaccustomed fire in her belly her blood.
Pressing against him to soak of his heat, Letty dared to match his motions with her own. tightened his embrace and deepened the kiss, eating at her mouth as though to sate a hunger.
Every single barrier had labored to construct melted beneath the warmth of him. How could she ever have thought him made of ice?
Ramparts guards fleeing left and right, she was a castle begging to be pillaged.
At the notion of becoming another man's conquest, panic tore through her and she broke the kiss.
"What have you done?" she whispered, her hands clenching at her side, clutching at the tattered remains of her anger and resolve.
Grey stared at her as though she were a stranger.
After a moment, he answered.
"Ruined us both."
Excerpt. ©Elizabeth Everett. Posted by arrangement with the publisher. All rights reserved.
Giveaway:

One copy of A PERFECT EQUATION for a U.S. only winner.
To enter Giveaway: Please post a comment to this Q:

What did you think of the excerpt spotlighted here? Leave a comment with your thoughts on the book…
Sorry, NO Rafflecopter today as the site is down. 
Please share this post on twitter and Tag @BerkleyRomance
Giveaway ends 02/11/2022 @11:59 PM EST
Meet the Author:
Elizabeth Everett lives in upstate New York with her family. She likes going for long walks or (very) short runs to nearby sites that figure prominently in the history of civil rights and women's suffrage. Her series is inspired by her admiration for rule breakers and belief in the power of love to change the world.
Buy link: https://www.penguinrandomhouse.com/books/653312/a-perfect-equation-by-elizabeth-everett/?pdivflag