The Wedding Dilemma by Mariah Ankenman is the first book in the new Mile High Firefighters series. I have not read a lot of books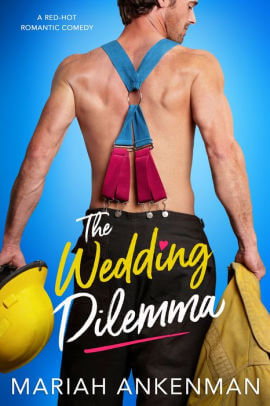 by this author but the ones I have read seem to have tons of humor and plenty of quirky characters. They certainly left me smiling at the end of each book. The book was well written, fast-paced, and the storyline was developed. The characters were genuine, very entertaining, and easy to fall in love with.
Parker Kincaid was a firefighter for the Denver Fire Department and met Tamsen while responding to her emergency call. He was charmed by her, but he had to do his job and be professional. He could not stop thinking of her and hoping to see her again, but he never expected to meet her again at his mother's engagement party and discover she was going to become his stepsister. Parker's mother had been taken advantage of several times in the past by men who only wanted her for her money. Parker had a hard time trusting people and he was afraid that Thomas, Tamsen's father, might be doing the same so he hired a PI to investigate Thomas. His conscience bothered him over investigating her dad while starting a relationship with Tamsen, but he would not risk his mother being hurt again.
Tamsen Hayes was an artist and was routinely caught in embarrassing situations. Having a handsome firefighter cut her from the body cast she made was one of those times. She hoped to see him again but not at her father's engagement party where she learned he was going to become her stepbrother. She was glad her father had found love again but she never wanted it for herself. Her mother had died when she was three and she saw how painful the loss was for her father. She was not looking for a serious relationship with a man because she wasn't sure if risking her heart was worth the pain of losing someone she loved. The chemistry between them was instant but neither one of them wanted a relationship. They agreed to a fun, no-strings fling, but love has a way of sneaking in.
This was a really fun book to read. It began with the cute-meet between Skylar and Parker and continued to the end. Tamsen was certainly accident-prone, and every situation Parker was called to was outrageously funny. I loved meeting Parker's crew and look forward to the next book in the series.
Book Info:

Publication: May 17, 2021 | Entangled Publishing LLC (Amara) | Mile High Firefighters #1
My life has always been pretty predictable. Run into burning buildings, save those in distress, be a hero. Shoot the shit with my fireman buddies, come home, and do it all again tomorrow. Little did I know that a random SOS call from a woman stuck in a plaster cast with nothing underneath (I swear I only caught a flash of skin) would throw me for a complete loop.
Until I see the flighty artist again. At my mom's engagement party. To her dad.
Suddenly the unpredictable woman I couldn't stop thinking about is my soon-to-be-stepsister. Yeah, the same one I mortified when I accidentally saw her a tiny bit naked. This should make family gatherings way more interesting.
Except when your mom's as loaded as mine is, you can never fully let your guard down when a guy comes sniffing around. So I can't help but be suspicious, even though his daughter's the perfect blend of beautiful and wild. As we spend more time together, prepping for our parents' wedding, we both agree that maybe there's nothing wrong with having a little bit of fun in the meantime. But if she knew I was investigating her dad on the side, she would never forgive me…