In The Wedding Do-Over (Four Weddings and a Fiasco) by Jennifer Faye, two former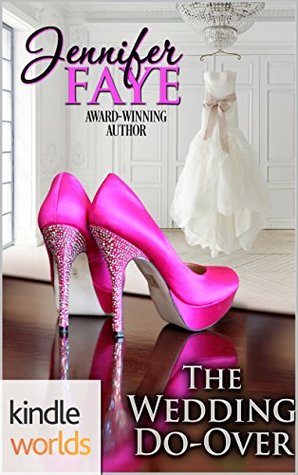 lovers reunite and get a second chance to make things right.
Olivia Van Holsen and Michael Camden were best friends who seemed to have a destined future together. The relationship progressed to the point where they got engaged but the wedding never happened, as Michael bailed. Olivia moved away and became a workaholic wedding planner, and Michael, well…he's trying to reach out and make some amends.
All of Olivia's hard work is paying off. She's planning the wedding of the year and nothing can stop her now. She needs this wedding to go off without any problems and is working non-stop to make it happen until the best man ends up being the one person who broke her heart.
"Michael was the reason she planned others' happily-every-afters and not her own."
After an accident leaves Michael wounded, he sets out to reconnect with not only Olivia but his half-brother as well. Fate is a funny thing because the wedding Olivia is planning just happens to be for his half-brother. When they first meet again, emotions churn as Olivia tries to have nothing to do with him, but Michael is very persistent where Oliva is concerned and doesn't let her ignore him. Michael swears all he wants to do is apologize to her so they can move on, but the longer he's with her, the more he can't stay away.
Olivia and Michael are different people now, but the love they felt for each other in the beginning is still going strong and doesn't look like it's going to change. Can these two people put the past where it belongs and move on to a brighter future…maybe one involving a wedding and pink heels? For readers who adore second chances, I definitely recommend this book as your next read!
Book Info:

Publication: May 2nd 2016 | Kindle Worlds | Four Weddings and a Fiasco |
Love that comes back is love that never went away…
At long last, Olivia Van Holsen's hard work and sacrifice are paying off! She's arranging the wedding of the year at the exclusive Rose Chalet for Hollywood's latest sweetheart. Rushed and hushed though the event is, if all goes well, her reputation as a wedding planner will be made!
However, when she discovers the best man is Michael Camden, Olivia is blindsided. She hasn't seen him since he ended their engagement just days before they were to say "I do." Though she told herself their breakup was for the best, Michael won't be ignored now; he's a changed man, intent on making amends. But how can she risk her heart again with a wedding do-over when she's on the verge of having all she's dreamed of in her career?