The Wedding Favor was my introduction to author Ally Blake. I am sure she has a big fan base if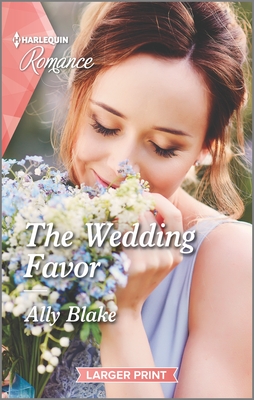 this delightful story is any indication. It seems during certain seasons of life a woman can be on a loop to be part of weddings for friends and family.
When Emerson Adler's friends Camille and Phillip ask her to be part of their wedding she looks forward to it. Who she didn't expect to find was Holden Roarke. He was her high school crush and a sort of unrequited love. He was always pleasant to her, especially when they spent time outside the guidance counselor's office. She was crushed one day when he was suddenly just gone. She never expected to see him again.
Now Holden has come a long way from his former life that was difficult at times. Thanks to Bettina and Chuck Crawford taking him in, he has really moved ahead. He invented an app that made him a millionaire and he left Australia behind. He has now come home to check on his benefactor Chuck who has had some health issues.
Emerson, called Emmy by those close to her, has sworn off relationships after too many heartaches. In fact she kept a Heartache journal over the years that included the day her father disappeared and the day Holden left from high school.
Now that Emmy and Holden have met up again, she doesn't want her heart broken again, but starts going out with him when he asks her to come to a gala as his plus one. After that there are exchanging of favors one after another. Can Emmy protect heart when she knows Holden may leave again some day soon.
Although Australia is the setting of this book, it has a universal appeal. Except to the mention of Vegemite sandwiches (sorry while I gag) and a few phrases , the love story could take place in any English speaking country.
Emmy was empathetic to me. She has been scarred by many events over the years, so it's not surprising she has kept her journal and closed herself off. She really has to work extra hard to open herself to love.
Holden is a very kind and extremely patient man. Most men would have just walked away from Emmy's issues. He had a tough time with feeling wanted so he can understand where she is coming from.
The secondary characters were also well developed and played pivotal roles in the plot. They all seemed very supportive of the hero and heroine.The romance is definitely a very slow boil and well written. Be sure and have a hanky nearby because there was a part of the novel that had me in tears.
During summer wedding season, or really any time, The Wedding Favor is definitely a fabulous read.
Book Info:

Publication: June 28, 2022 | Harlequin Romance |
In Ally Blake's latest Harlequin Romance, sparks fly when a former teenage crush appears at a wedding and asks for a favor that can't be resisted…When one favor…Leads to another! The sparks are flying from the moment Emerson Adler meets her teenage crush again at a wedding. Everything is different: Holden Roarke is now a millionaire entrepreneur—and she has sworn off relationships after all the heartbreak in her life. Yet when Holden asks for a favor…it's impossible to say no! Emerson knows she's strong enough to keep her heart at a distance—or so she thinks. But all too quickly, it's not so simple anymore!